Key Takeaways:
4 of 5 top U.S. universities have at least one coworking space within two-miles of campus and a total of 926 coworking spaces are located close to the 100 universities analyzed for this study.
New York University boasts the highest number of coworking spaces around its campus — 220 — giving working students and other campus-based professionals plenty of options to choose from for their flexible work needs.
Massachusetts Institute of Technology (MIT) shines in the New England region, with more than 50 coworking spaces within a two-mile radius of campus.
The most affordable subscription for an open workspace is registered at the University of California in Berkeley, where students, faculty members and other professionals can choose coworking for a median monthly price of only $70.
In the South Central region, Rice University in Houston, TX, enables access to enticing job opportunities at 484 institutions and top employers – the highest number among the 100 universities analyzed.
For many students, college is a time to get out on their own and begin taking their lives into their own hands. It's the first step in building a career and can make getting a job easier, even if it's still daunting. But students these days have the advantage of coworking spaces, which can be gamechangers by offering real-life office experience in a professional environment, something that is not easily, if not downright impossible to convey in a college library or dorm room. Furthermore, students can start building their network by working alongside established professionals and entrepreneurs, and who knows, may even find a job, partners or clients for their own business.
But, where in the U.S. is coworking on campus most accessible? To find out, we analyzed the number of coworking spaces within a two-mile radius of the top 100 universities in the country. We also looked at the number of popular employers or institutions that provide a large range of job opportunities in the area and the median city-level price for an open workspace membership.
80% of the Top 100 Universities Have at Least One Coworking Space Close to Campus
Coworking spaces were typically located close to traditional office spaces, in bustling urban cores and central business districts – which many historic universities in the dense Eastern cities benefit from. However, with operators constantly striving to optimize convenience for their clients, coworking spaces have made their way to the sprawling suburbs and around popular, less urban, universities across the country, so much so that, currently, 80% of the top 100 universities in the U.S. have at least one coworking space within two miles of campus — with the median being three. Among these locations, the median price for an open workspace stands at $124; however, around some campuses, like the one belonging to the University of California in Berkeley, coworking prices for the same membership go as low as $70/month.
Nationally, the campuses with the most coworking spaces around them are in dense Northeastern cities like NYC, Boston, and D.C. However, it turns out that even your typical college town has a great deal of flex workspaces where students can start their careers and build their networks across the country, with nearly every state represented. As such, plenty of locations outside the Northeastern region also made the top.
Notably, the University of North Carolina puts Chapel Hill on the map, with eight coworking spaces near its campus, as does Stanford University in the Californian city, with seven such spaces. Moreso, Ann Arbor is represented in our top by the University of Michigan, whose campus also has three coworking spaces nearby, the same number as Ohio State University in Columbus.
In the Midwest, the University of Illinois at Chicago Boasts Highest Number of Coworking Spaces Nearby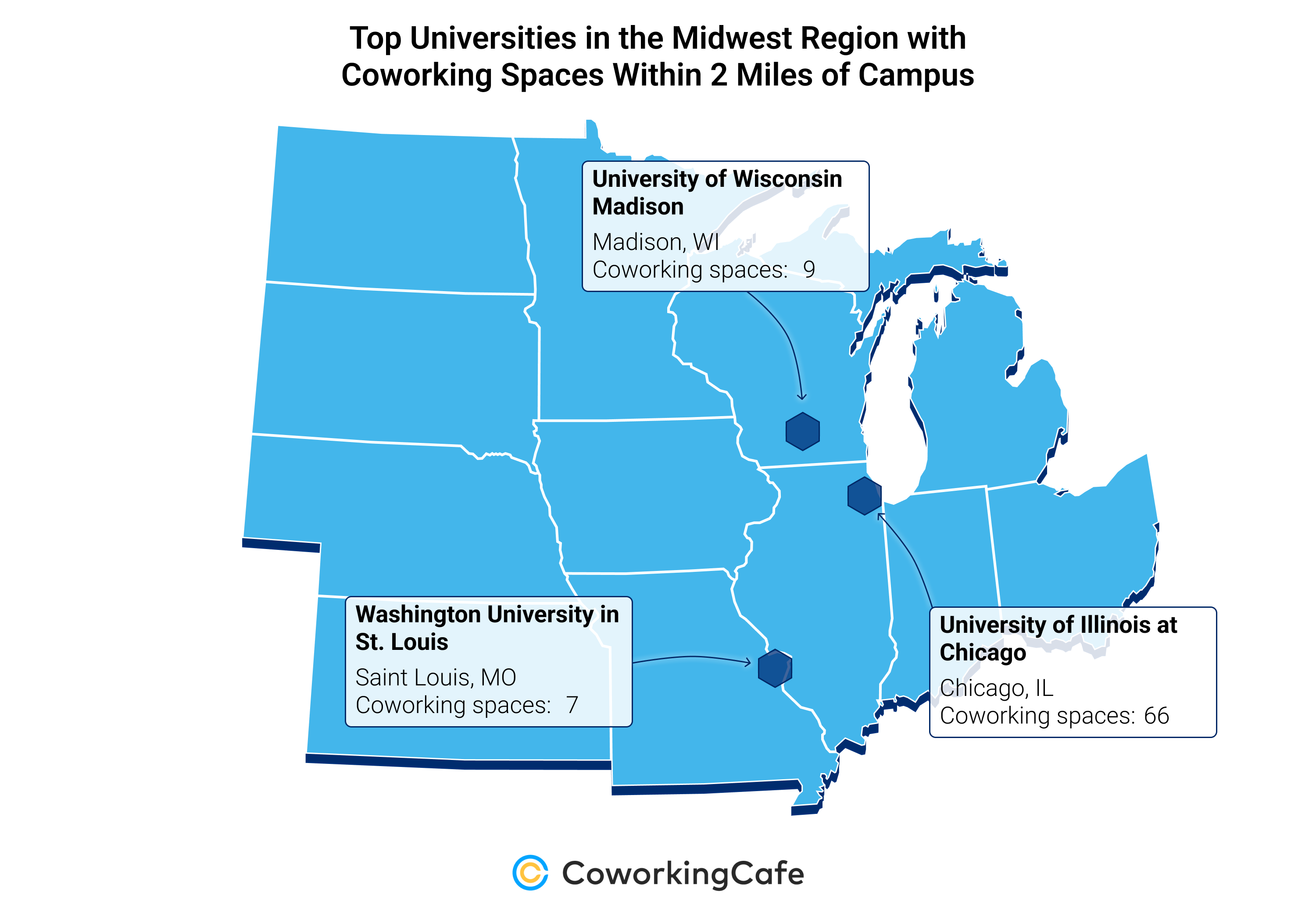 With six of the total 20 top universities in the Midwest region being located in the state of Illinois, the University of Illinois at Chicago stands out as the ultimate academic hotspot boasting coworking spaces. As one of the top public universities in the nation, it is also a world-renowned leader in research, public engagement and teaching, thereby attracting a wide pool of talent. Working students and other professionals here can benefit from the 66 coworking spaces available in a two-mile radius of campus. Not only that, but the job opportunities here are plentiful, with over 300 companies and institutions belonging to top employers from popular industries.
Following Chicago at a distance, Madison, WI, is represented in the Midwest region by the University of Wisconsin, a major public research institution with a focus on Computer and Information Sciences. More precisely, nine coworking spaces are located in or close to campus, and, moreover, the price for a monthly subscription in Madison stands at $125/month.
Next up is Washington University in St. Louis, MO, with seven coworking spaces located around its campus. Additionally, a solid number of nearly 200 top employers and businesses are available in the area as well, providing exciting career opportunities for students and graduates.
New York University Claims Most Coworking Spaces Close to Campuses in the Middle Atlantic Area & the Country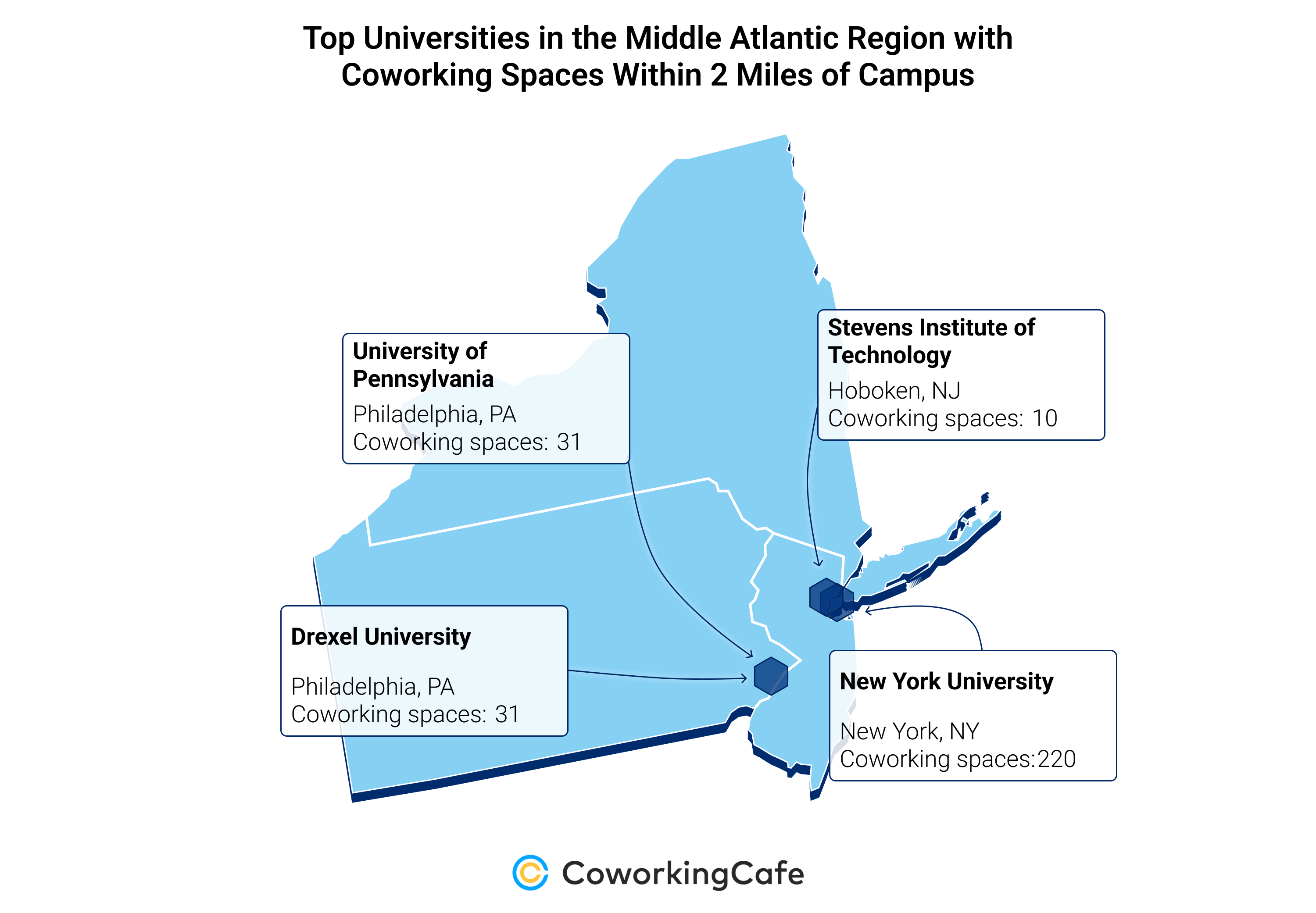 It might come as no surprise that New York University, which ranks #15 in the U.S., has the highest number of coworking spaces close by (220), given its location between Midtown Manhattan and the Financial District. And, with more than 400 sought-after institutions that offer enticing job opportunities, students and academic workers in the big city have plenty of options to choose from for their flexible work needs. What is surprising, however, is that the monthly subscriptions for a coworking space close to New York University stand at only $119, significantly less than in other locations. Here, giant operator WeWork logs 52 coworking spaces and Regus, 21. As such, both providers make it possible for members to easily switch between their chain's locations without any extra fees.
Notably, Philadelphia is represented by two major universities in the Middle Atlantic area, with almost exact same values across the board. The University of Pennsylvania and Drexel University both check 31 coworking spaces in or around their campuses. Likewise, both colleges offer access to 193 top employers covering different fields and the coworking price stands at $124/month, the exact median for all the locations analyzed in this ranking.
Meanwhile, Stevens Institute of Technology places Hoboken third in the Middle Atlantic region, with 10 flex workspaces in a two-mile radius of its campus and 21 available around the city. However, coworking prices in this area are on the higher end, standing at a median of $245 for an open desk monthly membership.
Boulder, CO, Leads the Mountain Region in Terms of Coworking Spaces Around University Campuses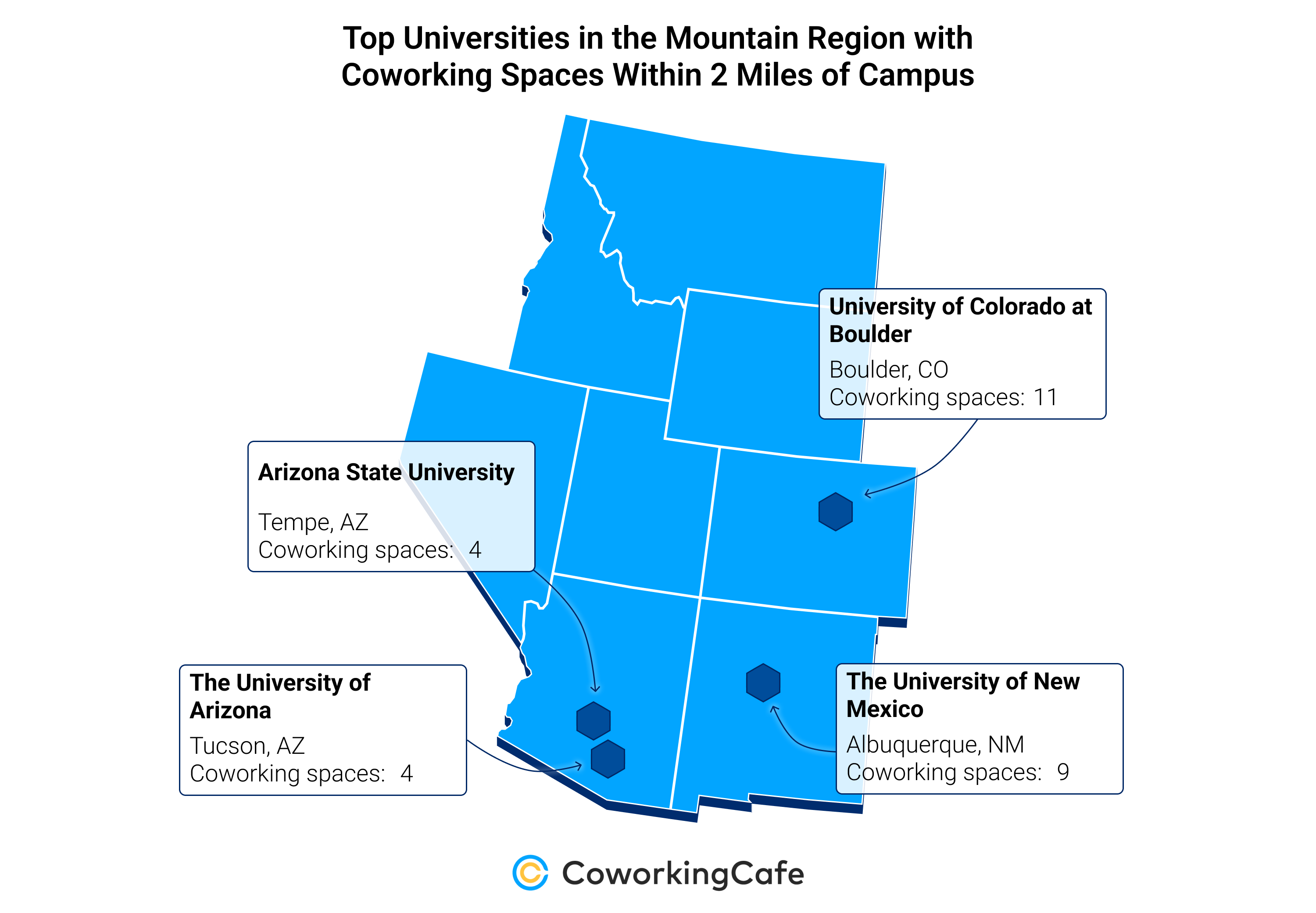 Out west and with 11 coworking spaces around its campus area, the University of Colorado at Boulder is the one that caters best to the flex work needs of working students in the Mountain region. And while gaining experience and growing cultivating a professional network at any of these spaces, there are also 44 top-tier employers with enticing job opportunities ready either during their studies or after graduation.
Not far behind, Albuquerque's University of New Mexico follows in second place in this region, with nine coworking spaces around its campus and 22 in the city, with an open workspace subscription standing at a median price of $134. The state of Arizona is represented here by two of its major colleges, Arizona State University in Tempe and The University of Arizona in Tucson, with four coworking spaces each. In fact, in Tucson, the median price for a coworking subscription is one of the most affordable among all the locations analyzed, at only $99/month. Plus, the university representatives were quick to acknowledge the benefits of coworking and partnered with giant operator WeWork in 2020, to grant working students nationwide and even global access to WeWork's portfolio, through their UArizona Global Microcampus Network.
6 out of 8 New England Locations with Most Coworking Spaces Near Campuses Are in Massachusetts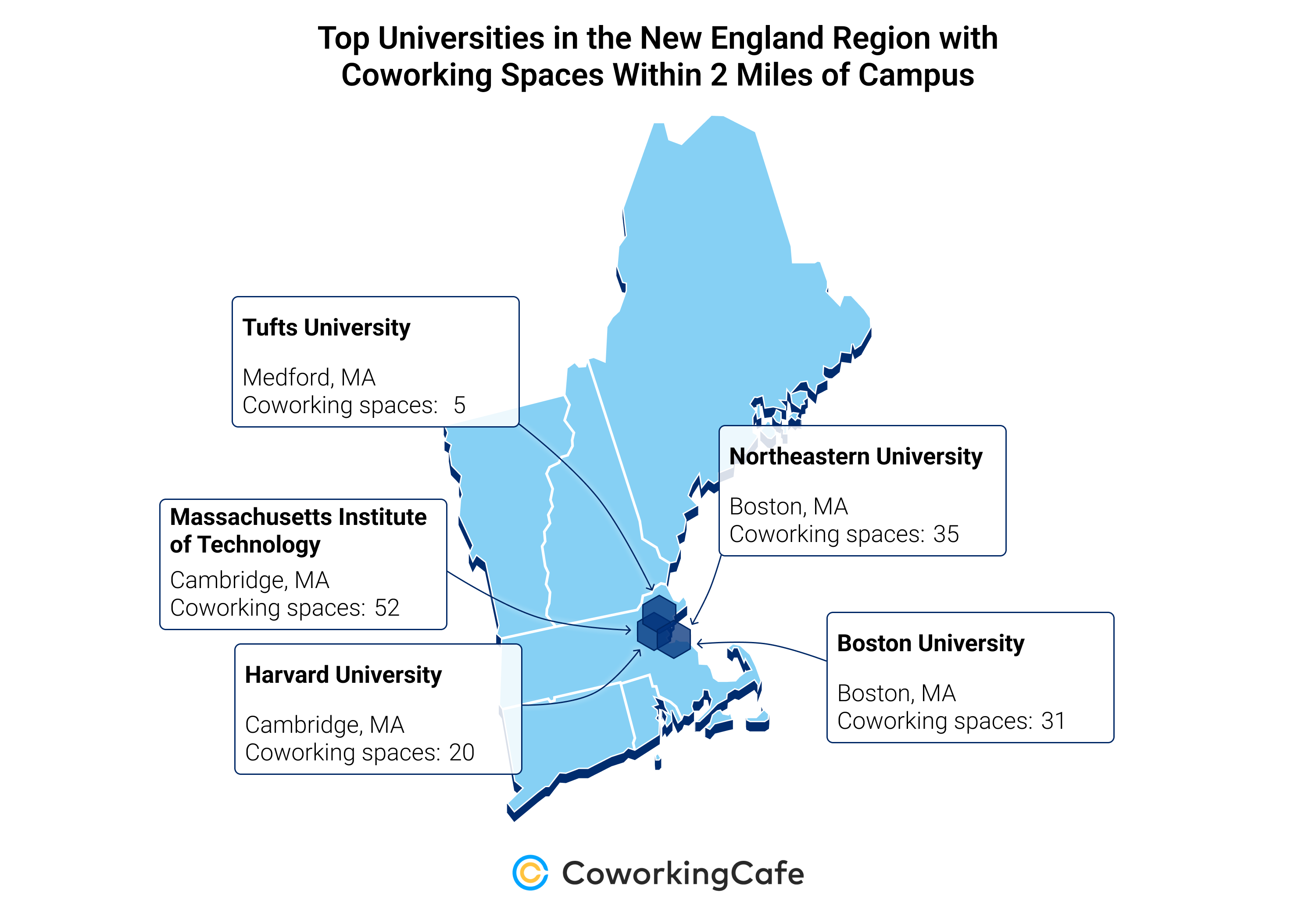 With two of the most prestigious universities on a global level, Cambridge was sure to dominate the top in New England. Massachusetts Institute of Technology (MIT) and Harvard University, the first and second most influential universities in the nation, check 52 and 20 coworking spaces around their campuses, respectively, helping students and professionals develop their skills and make connections outside the classrooms. Attendees to both of these prestigious universities will also have to pay up, however, as the median price for an open workspace in this area stands at $205/month, higher than in other areas.
At the same time, he city of Boston is represented by Northeastern University and Boston University, both of which have 35 and 31 coworking spaces, respectively, in or around campus. The coworking prices here are significantly more affordable than in Cambridge, standing at $122/month for an open workspace. Popular operators WeWork and Regus are the ones in the area, with 10 and seven coworking spaces, respectively.
With five coworking spaces within a two-mile radius of campus, Medford, MA, also makes the top, with Tufts University at the forefront, a student-centered research university with a wide range of majors.
In the Pacific Region, Pasadena & Irvine, CA, Tie for Highest Number of Flex Workspaces Available to University Students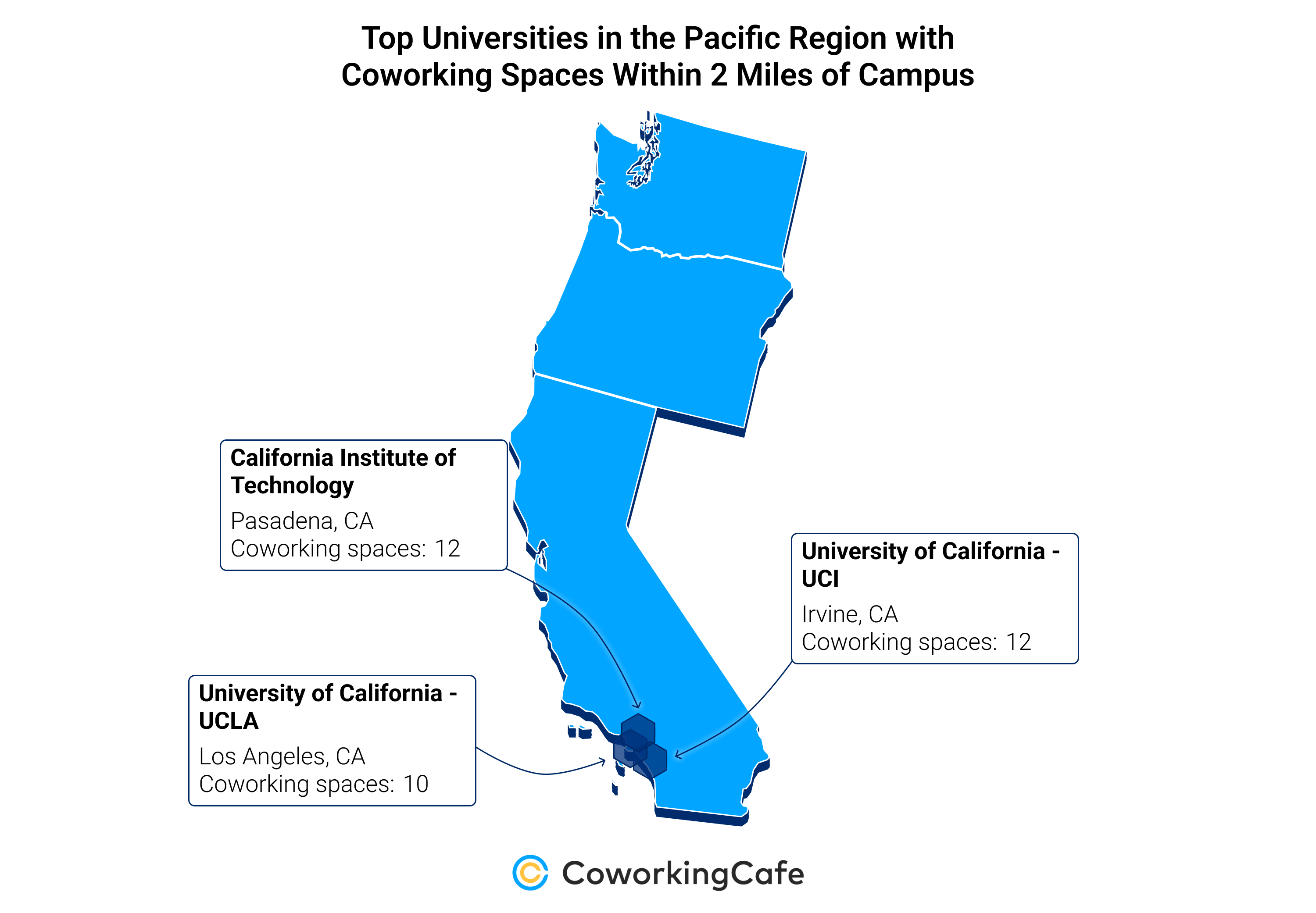 With plenty of reputable universities that welcome significant numbers of nationwide students every year, California shines bright in the Pacific region, especially through Pasadena and Irvine. In particular, California Institute of Technology (Caltech) and University of California Irvine (UCI) both log 12 coworking spaces around their campuses. Furthermore, both locations also check solid numbers of institutions and employers that could be of interest to working students and other university-based professionals.
Next, with slightly fewer close-to-campus coworking spaces, 10, the University of California, Los Angeles (UCLA) still makes the top among the typically sprawling Pacific region. SoCal is also a hotbed for career potential with more than 380 top employers in the area. On par with UCI when it comes to coworking subscription prices, UCLA stands at merely $119/month, notably less than in Caltech's case, where an open workspace membership reaches almost $200.
Washington, D.C. & Atlanta, GA, Lead in South Atlantic Area, with Most Coworking Spaces Near Universities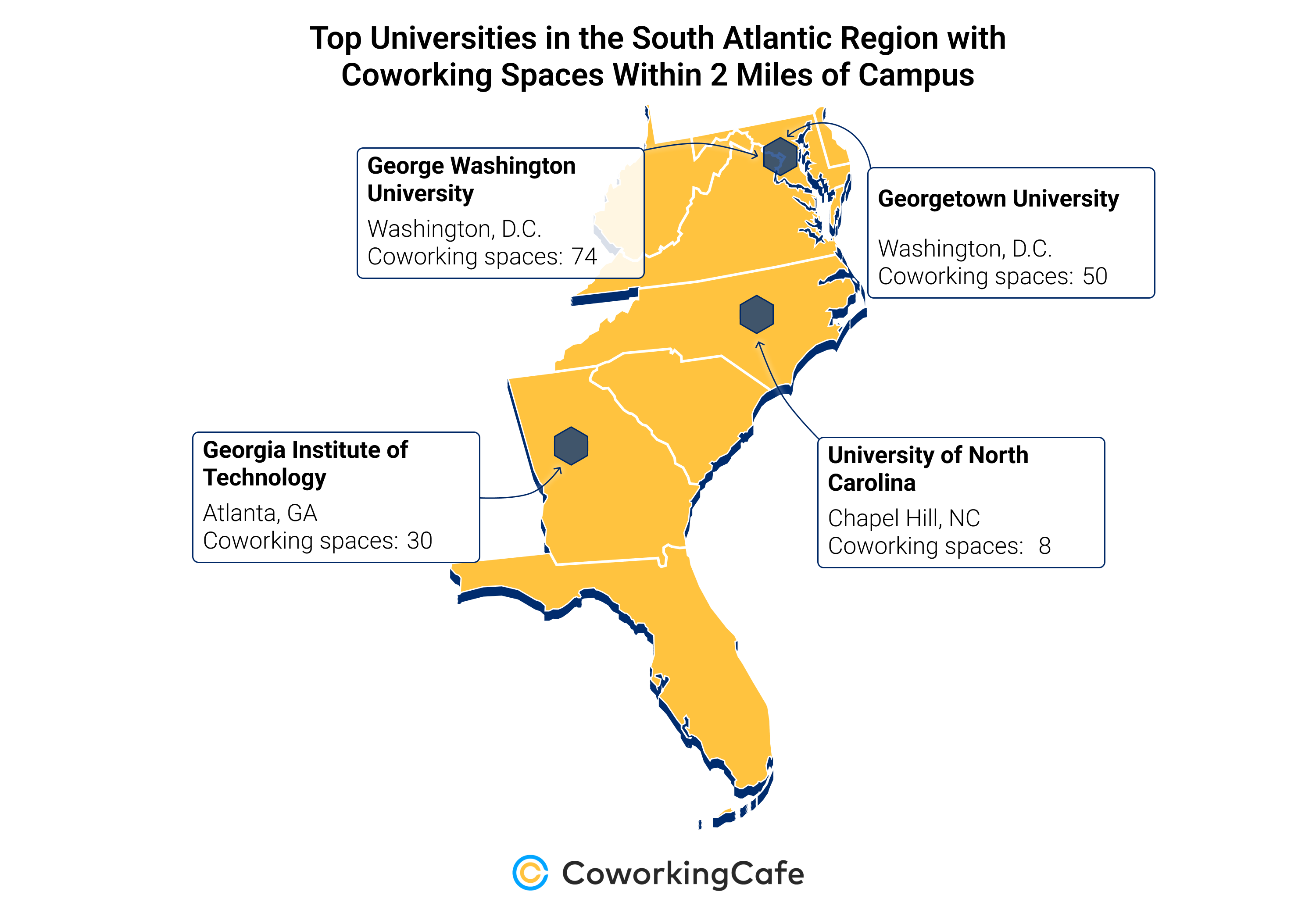 With the second-highest number of coworking spaces around a campus of all of the universities analyzed, George Washington University in Washington, D.C. checks 74 shared office spaces available for working students and campus-based workers. Not only that, but there are also more than 200 institutions and companies offering professional or educational opportunities are in the area. The nation's capital is also proudly represented in the South Atlantic region by Georgetown University, where 50 coworking spaces are accessible close to campus. Membership for an open workspace around both of these universities stands at a reasonable $124/month, the exact median for all the locations analyzed.
Similarly, in Atlanta, the Georgia Institute of Technology's campus is surrounded by 30 coworking spaces within a two-mile radius and the monthly subscription for an open workspace stands at $125.
However, the third South Atlantic location on the podium follows quite at a distance: Chapel Hill, NC checks eight coworking spaces around the University of North Carolina Chapel Hill and 14 around the city area. Conversely, the monthly price for a coworking membership here is slightly higher, reaching $149.
Students & Workers in Austin, TX, Have Best Chances of Finding a Coworking Space Close to Their Campus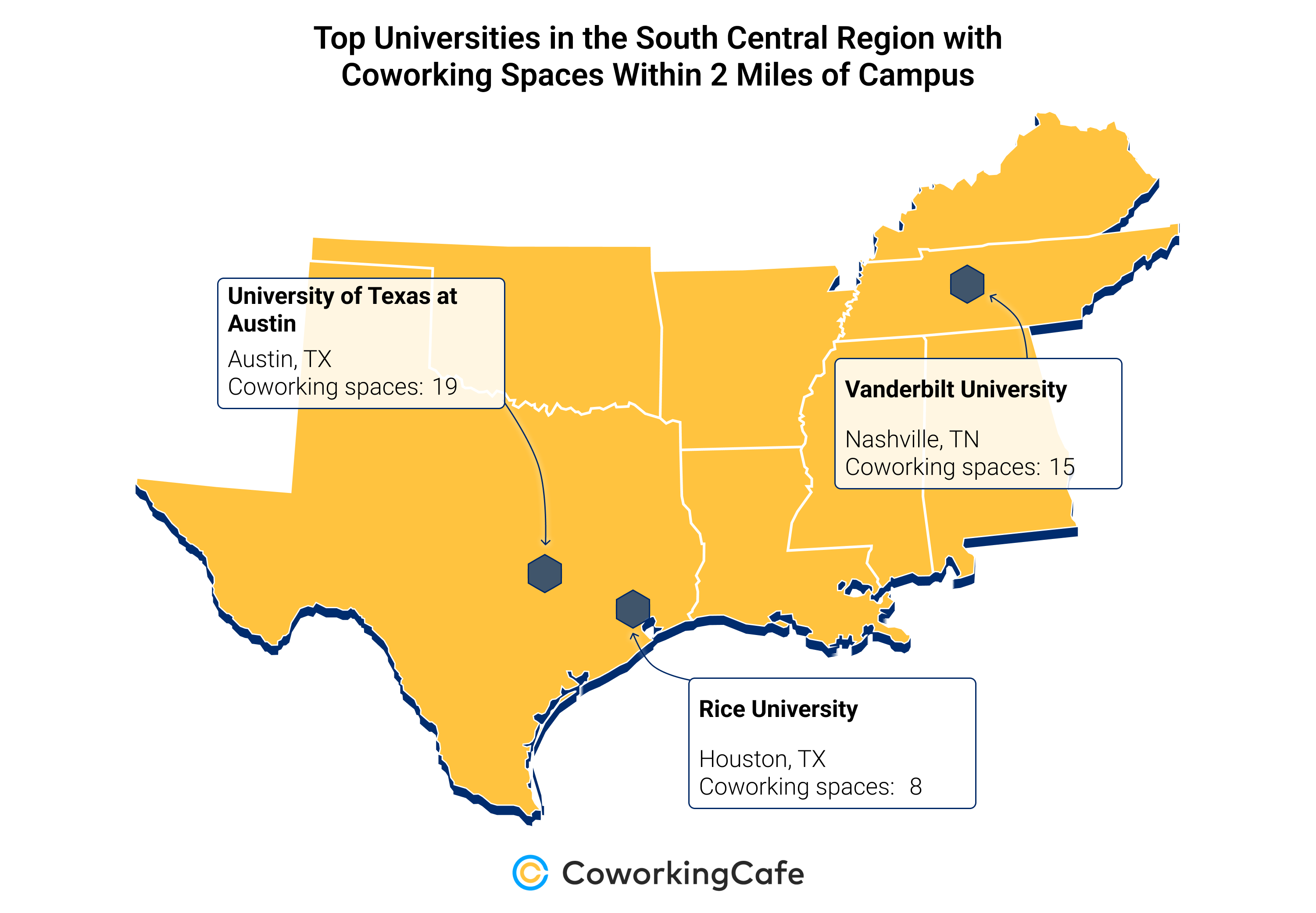 As home to more than 50,000 students and 3,000 faculty members, the University of Texas at Austin checks all of the boxes for working students, graduates and university-centered professionals, including through accessible coworking spaces. Here, 19 flex workspaces are available in close vicinity to the campus. What's most impressive, thought, is the city's high number of business ventures with possible job openings, 311, which creates a large pool of career and professional opportunities.
Finally, Vanderbilt University in Nashville, TN, follows the University of Texas at Austin, with 15 coworking spaces around campus, while back in the Lone Star State, Rice University in Houston rounds out the top coworking campuses in the South Central area. Despite having only eight coworking spaces around the college campus, Houston's solid inventory of flex workspaces caters to students who are willing to walk the distance. The median price for a monthly open workspace subscription is under $140. Perhaps the most impressive factor, however, is Houston's plethora of institutions and top employers looking for smart, talented and connected young people, the highest number among all the universities analyzed – at 484.
With coworking spaces constantly rising in numbers across the nation, their distribution is shifting to cover more ground and cater to different professionals, regardless of their location. This includes students and recent graduates in need of flexible solutions to their work needs, whether that refers to a simple virtual office that will allow them to launch their startup or a actual workstation in a professional environment, which also enables them to make valuable connections and build their careers from the ground up.
Methodology
To compile this study, we looked at the top 100 from the Top Universities Ranking (2024).
To calculate the total number of coworking spaces near campus, we mapped the GeoID's of all coworking spaces and only those within a two-mile radius from the center of the main campus.
We excluded fully online universities and the ones that did not have at least one coworking space in a two-mile radius of campus.
We extracted all active U.S. office-specific coworking listings from CoworkingCafe on September 1st, 2023, excluding all listings outside a 2-mile radius of the top 100 U.S. university campuses. We also excluded all coworking spaces listed as multifamily, retail, and industrial types.
To determine the coworking costs, we analyzed the median prices for open workspace packages on city-level. While we considered the price of a monthly subscription for this study, it's important to note that coworking operators also offer day passes or other highly flexible subscriptions, enabling students to pay for the space only when they need it.
We considered top employers and companies the following institutions that could potentially provide a wide range of job opportunities:
Aerospace Product and Parts Manufacturing
Software Publishers
Wired and Wireless Telecommunications Carriers
Data Processing, Hosting, and Related Services
Legal Services
Architectural, Engineering, and Related Services
Specialized Design Services
Computer Systems Design and Related Services
Management, Scientific, and Technical Consulting Services
Scientific Research and Development Services
Medical and Diagnostic Laboratories
General Medical and Surgical Hospitals
Psychiatric and Substance Abuse Hospitals
Specialty (except Psychiatric and Substance Abuse) Hospitals
Fair Use & Redistribution
We encourage you and freely grant you permission to reuse, host, or repost the images in this article. When doing so, we only ask that you kindly attribute the authors by linking to CoworkingCafe.com or this page, so that your readers can learn more about this project, the research behind it and its methodology.