Key Takeaways:
Nationally, almost half (44%) of all coworking spaces can be found in the suburbs.
At the metro level, Los Angeles checks the highest number of suburban coworking spaces at 361, including 91 in the country's leading suburb, Irvine.
The LA area is one of the metros where coworking spaces are more common in the suburbs than they are in the city proper.
Nationwide, the top operators with the most coworking spaces in the suburbs are Regus, Flex Workspace+ and Premier Workspaces.
Historically, the picket-fence lifestyle has always been the epitome of the American dream — and, during times when remote work has become more widely available and Millennials have settled down to raise families, larger and more affordable spaces on a cul-de-sac make perfect sense.
Notably, the shift from larger, urban areas toward suburban and rural ones that took off in 2020 actually reached its peak the following year: the 
Economic Innovation Group
 reported that a significant 68% of urban counties decreased in population in 2021, which accounted for a remarkably large share by historical standards.
But, with work and personal lives so intertwined (especially during the pandemic years), it was expected that jobs would hit closer to home — literally. As such, suburbs have welcomed not only standalone businesses, but also flexible workspaces among their cores.
With this in mind, we set out to determine exactly which American suburbs best catered to the work needs of their residents by boasting the most coworking spaces. Specifically, we leveraged proprietary data to pinpoint the suburbs that log at least 10 coworking spaces each and we determined that there are 37 ones across the country that meet this requirement. Meanwhile, at the metro level, we focused on the ones that have at least three such suburbs.
44% of National Coworking Inventory Is Distributed Among Suburbs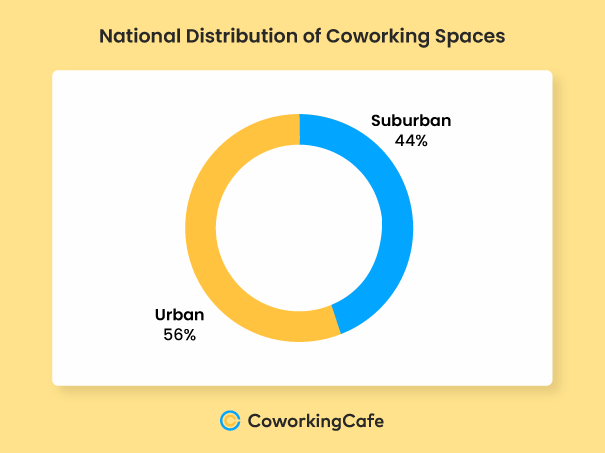 Currently, 44% of the total national number of coworking spaces belong to the suburbs. While the remaining 56% is concentrated in bustling urban cores, the popularity of flex spaces surrounded by picket fences stands out as a clear sign of a healthy demand coming from suburban residents, as well as operators' willingness to bet on more than just centrally located business districts and busy downtowns.
You can check the table below and sort the data by metros, as well as the number of coworking spaces in each location.
Los Angeles Metro Boasts Most Suburban Coworking Spaces — a Whopping 361
LA's predominant industries — entertainment, technology and aerospace — continue to fluctuate in terms of staffing and hybrid schedules. Plus, these industries are difficult (if not impossible) to replicate in a work-from-home environment. As such, the Los Angeles metro is home not only to the highest number of suburban coworking spaces (361) but also to the ultimate leader in the nation: Irvine boasts an impressive 91 flex workspaces that cater to its population.
Given Irvine's status as one of the wealthiest suburbs that's also self-serving and within close proximity of the City of Angels, it's only natural that coworking spaces would be an integral part of the business scene here. As the home of the University of California and with its quick access to both scenic beaches and mountains, this California suburb has what it takes to attract a large influx of entrepreneurs, freelancers and standalone businesses.
At the same time, Newport Beach — known for being one of the most luxurious areas in the LA metro and providing many jobs in the medical and hospitality fields — checks a total of 25 coworking spaces for its residents.
Pasadena comes in third in the LA metro with 16 flex workspaces at its core. It's an ideal location for those who are looking to escape the hustle and bustle of LA's urban region, while still being very close to the main city. Pasadena is also home to two of America's leading scientific institutes — NASA's Jet Propulsion Laboratory and the California Institute of Technology (CalTech) — which can explain the popularity of coworking spaces.
Likewise, Long Beach logs 15 such workspaces, while Beverly Hills (the famously popular suburb filled with luxurious real estate and retail businesses), checks 13 shared workspaces. Santa Monica and Costa Mesa also both make the ranking with 11 coworking spaces each, while Glendale follows close behind with 10.
Unsurprisingly, big coworking players have made their entrance into the LA suburbs, with 197 flex workspaces belonging to Flex Workspace+, Premier Workspaces, Regus, WeWork, Spaces and others. In fact, more than half of Flex Workspace+'s national inventory is currently spread across LA suburbs. The remaining 164 LA coworking spaces are accredited to smaller operators, like TailoredSpace, SuitesPro or Hollywood Production Center.
Coworking Spaces in Washington, D.C.'s Suburbs Top 160 Properties
Given the significant suburban flight that took place in Washington, D.C. in recent years, the large total number of coworking spaces in this market's suburbs might come as no surprise. According to the D.C. Policy Center, domestic-out migration in this area led to a drastic loss of 23,000 residents in 2021 — a record high in the last two decades.
At the same time, with construction permits in Washington, D.C. hindered by local policies, it makes sense that any new type of real estate (including commercial) would take root outside of the urban core. Furthermore, given that the federal government hasn't ordered a return-to-work edict and its individual agencies have been favoring downsizing, it's only natural that coworking spaces would provide a favorable solution to D.C.'s recent shifts in the work field.
As such, Arlington, VA, is the top suburb in the Washington, D.C. metropolitan area with 25 coworking spaces available for its residents. A wealthy area that's also home to the Pentagon, Arlington has a higher cost of living than many other suburbs. But, its urban vibe, high level of education among residents, and thriving economy make it an ideal spot to enjoy the picket-fence lifestyle close to the nation's capital. Additionally, 17 flexible workspaces can also be found in Alexandria among some of the U.S.'s most prized suburban real estate. Meanwhile, Fairfax, another wealthy area of Washington, D.C., checks 12 coworking spaces and Bethesda, 11.
Here again, the majority of coworking spaces in the Washington, D.C. metro belong to expansive coworking brands, like Regus, Perfect Office Solutions, LocalWorks, Industrious and others. Alternatively, among the smaller players with the most coworking spaces in the area, we noticed Metro Offices, Oasis Office and Navigate.
San Francisco Metro Claims 108 Suburban Coworking Spaces
In the San Francisco metro area, Oakland leads the way as the suburb where 24 coworking spaces are at the disposal of residents. Known not only for its natural saltwater lake and scenic outdoor areas, but also for its prominence in business, Oakland employs many people in its leading industries that range from business and health care to government, transportation, arts, entertainment and much more.
To the north, Berkeley scores 13 coworking spaces. A top cultural area that's home to UC Berkeley (one of the best universities in the country), its vibrant economy and urban vibes make this particular suburb the ideal place for young entrepreneurs, despite its higher-than-average cost of living.
Similarly, residents in San Mateo can benefit from 10 coworking spaces, which come in handy given the suburb's proximity to San Francisco and Silicon Valley. Here, suburbanites can enjoy all of the perks of the big city, including the many job opportunities, while also benefitting from a friendly vibe and clean, safe environment.
Interestingly, smaller coworking operators are the ones that check a higher total number of properties than the big players in the San Francisco suburbs market. While Regus, WeWork and Pacific Workplaces are the top ones with the most spaces in the area, the mix between coworking spaces belonging to operators like Oakstop, Sima Spaces, Bonneville Labs and others manages to tip the balance in their favor.
3 Suburbs in Miami Metro Offer Plenty of Coworking Spaces to Residents
The year-round great weather and proximity to vibrant cities with prosperous business districts aren't the only features that make the Miami metro desirable for suburbanites. Here, residents can easily benefit from all of the perks of urban living — like the job opportunities, beaches, arts, culture and entertainment, as well as the 132 suburban coworking spaces available in the metro — while still retreating to the quiet cul-de-sac at the end of the day.
Plus, there's a significant return-to-the-office trend in Southern Florida, and it seems that working from the office three to four days a week has become prevalent in many industries. As such, many buildings are seeing employee occupancy at 60% to 70% and are being successfully paired with a hybrid work model in suburban locations.
For instance, in Boca Raton, residents and tourists alike have 19 coworking spaces at their disposal where they could conduct their everyday work activities in a professional environment, but with all of the flexibility that remote work entails. As a wealthy community within a short distance of both Miami and Fort Lauderdale, Boca Raton makes it easy for residents to enjoy its beautiful beaches, luxurious lifestyle and spacious housing, as well as enticing job opportunities.
The second coworking suburb in the Miami metro, Coral Gables checks 16 coworking spaces. Considering its wealthy character, waterfront views and luxury real estate, it's no wonder that coworking operators choose this area as a means to expand their businesses and cater to the working community. Similarly, in Aventura, residents can take advantage of the city's many restaurants, coffee shops, parks and the third-largest mall in the U.S., while also excelling at their jobs as the suburb enables 10 coworking spaces.
In terms of coworking operators in Miami suburbs, Regus has the most spaces. Even so, WeWork, Quest Workspaces and Industrious also check at least three coworking spaces in the area. That said, Miami also hosts a multitude of independent coworking operators, like Buro, Nexus Workspaces and The Crexent.
Like Miami, Dallas-Fort Worth Logs 3 Trending Suburbs with 10+ Coworking Spaces
Overall, the Southeast and Southwest tend to be suburban-driven office markets. In fact, according to various studies, higher-quality and class A assets in suburban markets performed better than central business district office markets in 2022. That was proven to be true in the Dallas-Fort Worth market, which also makes the podium due to its high number of coworking spaces in the suburbs with a total of 121.
Granted, the urban areas here are top choices for powerful industries and benefit from a thriving economy and prestigious universities. However, it's the nearby suburbs where residents can get the best of both worlds, including shorter commutes and large, affordable homes. As such, Plano — an area that started out as a quiet farming community — has developed into one of the most alluring suburbs for both families and young professionals due to its great quality of life, strong education system and robust job market. Here, residents have a total of 19 coworking spaces to choose from.
Coworking operators have also made Irving their home: 14 flex workspaces are currently present in the area. Considering Irving's status as a major attraction in the corporate world (and one that fosters the global headquarters of multiple Fortune 500 companies, as well as many other multinationals), it's no wonder that coworking spaces are an integral part of the business scene in this thriving suburb.
And, as the third coworking suburb in the DFW metro area, the wealthy and safer-than-the-national-average suburb of Frisco also checks 11 coworking spaces.
Here again, the suburbs in Dallas-Fort Worth are home to more coworking spaces belonging to big operators than independent ones: Regus, Lucid Private Offices and Executive Workspace dominate the market, while smaller player Caddo is the only one to check more than five coworking spaces in the area.
Other trending suburbs that made the top 37 by registering more than 10 coworking spaces each are: Scottsdale, AZ; Cambridge, MA; Bellevue, WA; Tacoma, WA; Alpharetta, GA; Carlsbad, CA; Overland Parks, KS; Columbia, MD; Mesa, AZ; Aurora, CO; Santa Clara, CA; Jersey City, NJ; Troy, MI; Princeton, NJ; Palo Alto, CA; Henderson, NV.
Los Angeles & 2 Other Metros Stand Out as Exceptions with Significantly More Coworking Spaces in Suburbs Than Their Respective City Proper
While the distribution of coworking spaces naturally tips the balance in favor of urban areas at the national level, some locations stand out as exceptions with more suburban flex spaces than urban ones.
The largest gap is registered in the Los Angeles metro, where over 260 more coworking spaces are currently in suburban areas than in the main city. The Washington, D.C. metro area registers the second-highest difference in distribution with a gap of more than 80 coworking spaces, while the Boston region logs 45 more such spaces in its suburbia.
Methodology
For the purpose of our study, a suburb was considered to be a place located within a large metro area. Within each metropolitan location, we singled out the largest city and considered the remaining ones as suburbs. No population filter was used.
We counted each individual coworking space once for each address/operator in our database.
To determine the top 37 leading suburbs, we sorted through more than 900 suburban locations with at least one coworking space each and focused on those that had at least 10 coworking spaces per suburb.
Fair use and redistribution
We encourage you and freely grant you permission to reuse, host, or repost the images in this article. When doing so, we only ask that you kindly attribute the authors by linking to CoworkingCafe.com or this page, so that your readers can learn more about this project, the research behind it and its methodology.