Key Takeaways:
The Inland Empire, CA was the most expensive metropolitan area for open workspace while Santa Barbara, CA stood out in the dedicated desk category.
Silicon Valley offered some of the most affordable open space coworking memberships in the country.
Upstate New York was represented on both extremes with costly open office arrangements in Albany, NY, as well as inexpensive virtual office subscriptions in Rochester, NY.
Despite having some of the most expensive virtual office memberships, Cincinnati, OH coworking spaces offered some of the lowest-priced dedicated desks.
Jacksonville, FL was among the most affordable metro areas in two categories — open workspace and virtual office.
The coworking space industry has exploded in recent years, with more and more businesses and workers seeking flexible collaboration spaces. Although the pandemic boosted the demand fairly evenly across the country, coworking space supply in the U.S. is evolving along a more sporadic pattern (not to mention all of the other variables that influence pricing). Consequently, coworking subscription costs present a wide variation across the different parts of the country.
So, from bustling New York to sunny California, we highlighted the U.S. metropolitan statistical areas (MSAs) with the highest and lowest prices for the most common coworking subscription types. Specifically, our study broke down virtual office, open space, and dedicated desk options, and ranked MSAs by their median starting prices for each membership type. Plus, with our dynamic tool, you can even check median prices and compare costs in your own backyard.
Open Workspaces
Inland Empire Takes Top Spot, 13 Metros on Par with Silicon Valley Median
Open workspaces are ideal for small business owners, freelancers and remote workers who want a professional workspace without the commitment of a private office. Also known as open desk or hot desk coworking, this type of membership is a popular option for entrepreneurs and remote workers who want a collaborative and cost-effective work environment. In an open workspace, coworkers share flexible space, with unassigned — and sometimes shared — desks. Open workspaces also provide access to meeting rooms, networking events, lounges, and other amenities to encourage productivity and community-building.
In this respect, the Inland Empire and Albany, NY had the highest median starting price for open space coworking subscriptions, tying at $250 per person per month. Aside from the growing business activity throughout the Inland Empire, the University of California, Riverside's School of Business — the largest undergraduate business program within the University of California system — also calls Riverside home. Meanwhile, following last year's approval of the CHIPS Act, Albany is on track to become one of the most important U.S. semiconductor research and development hubs, spearheaded by IBM and other leading tech companies at the state-of-the-art NanoTech Complex.
With only a $25 difference, Hampton Roads, VA — which includes Norfolk and Virginia Beach — was not far behind at $225. Here, a massive presence of defense contractors and a booming IT sector in the Hampton Roads area sustain demand for flexible office space. It was followed closely by Louisville, KY, with a $223 median. Louisville is home to the headquarters of billion-dollar public companies like Humana Inc. and Yum brands (the company managing some of the largest U.S. fast food names). Rounding out the list with a $213 median starting price was Buffalo, NY, where diminishing manufacturing jobs are being replaced by white-collar jobs in the life sciences and tech industries.
Meanwhile, the lowest $93 median price was widespread across the country. The explanation is rooted in how Regus, the world's largest coworking operator offers open workspace subscriptions around this price point at most of its U.S. locations. Simply, the more than 800-strong portfolio managed under three brands weighs enough to pull many of the metro-wide medians close to the $100 mark. In fact, the median price was exactly $93 in no less than 14 metropolitan areas across the country due to Regus' subscription structure that allows access to multiple locations with the same membership.
Dedicated Desks
High-Cost Coastal Metros with Robust Economies Lead in Price
Dedicated desk subscriptions are a cost-effective option for those who want to take a step up from hot desking toward a more consistent working environment. Unlike open workspaces (where coworkers may have to set up camp at different workspaces each day depending on availability), a dedicated desk provides a personalized, permanent workspace reserved for an individual or team. Similar to other coworking arrangements, dedicated desks also offer additional benefits, including access to meeting rooms and networking events to promote collaboration.
To that end, the priciest metros for dedicated desk coworking were mainly coastal with high living costs and robust economies. Predictably, New York City and Washington, D.C. had some of the highest median monthly subscription rates, at $450 and $412, respectively. Meanwhile, supported by the lively coworking scene, dedicated desk prices in Santa Barbara, CA reached even higher than that. Here again, this was a foreseeable result as Santa Barbara is the nation's fifth-most expensive real estate market, according to U.S. News & World Report.
At the same time, the Charleston Digital Corridor that leads the growing IT sector, combined with a relatively low number of dedicated desk options, contributed to the higher median costs in Charleston, SC. Conversely, although there's a large concentration of cutting-edge academic and defense technology in Honolulu, HI too, Hawaii's startup community has yet to catch up with the larger, continental metros. Moreover, dedicated desks are even more of a rare find in Honolulu, and the high overall cost of living and real estate prices also affect coworking subscription rates.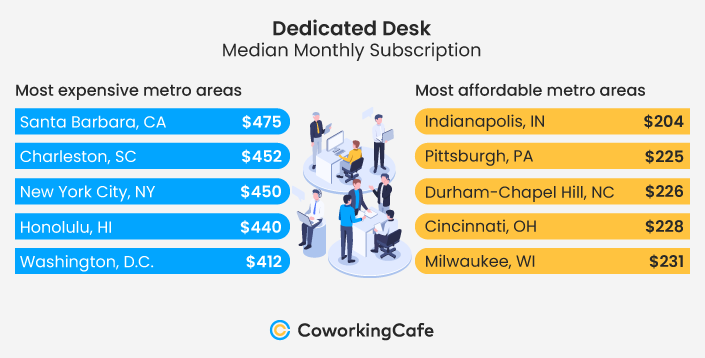 Interestingly, dedicated desk prices were on the widest spectrum in absolute terms of all subscription categories. For example, the median price in the most affordable metro area, Indianapolis, was $271 lower than the price of the same package at a moderately priced coworking space in Santa Barbara — $204 versus $475 per month, respectively.
Generally speaking, the metros with the most affordable coworking membership prices across all subscription types aren't known for the same buzzing startup scenes as Miami or Austin. That said, Pittsburgh, PA and the Durham-Chapel Hill, NC areas were notable exceptions— and indeed their up-and-coming status may lend to their more affordable coworking memberships. This, along with a high concentration of research and tech talent in Pittsburgh's Innovation District earned Steel City 13th place on Startup Genome's ranking of the world's emerging startup ecosystems. Similarly, dedicated desk prices in Durham-Chapel Hill offer an attractive alternative to traditional office space for the Research Triangle startup scene and the large corporate employers alike.
Notably, the Midwest was well-represented at the lower end of the coworking price ranges with median dedicated desk subscriptions hovering around the $230 mark in both Cincinnati, OH and Milwaukee, WI. However, Cincinnati also claimed a top position in the virtual office category (more on that below).
Virtual Offices
Price Premium Reaches up to 4X Between U.S. Metro Areas
Virtual office coworking services are ideal for remote or traveling workers and those who don't require full-time space as it can help businesses maintain a professional image and reduce costs by having a central point of contact. Furthermore, virtual offices also bridge the gap for remote companies that want the benefits of the traditional way of doing business without the physical office. Thus, a virtual office subscription typically includes a business address, phone/fax number, mail/package handling services, and occasional access to amenities.
Of course, for those looking to take advantage of the perks of virtual office services, pricing can vary greatly depending on location. In that scenario, the Nashville, TN metropolitan area was the most expensive: Virtual office subscriptions in Nashville ($215) cost more than four times more than similar packages in Austin, TX, ($48).
What's more, there's even noticeable variation within the most expensive metro areas. The median virtual office price in Columbus, OH came in $13 below nearby Cincinnati at $147. Granted, this might not make a big difference in the short term, but it adds up to more than one month's worth of subscription savings over a year. Furthermore, the median price for the same subscription in Chicago, IL was $31 lower, while the $150 median in San Antonio put it on par with Columbus.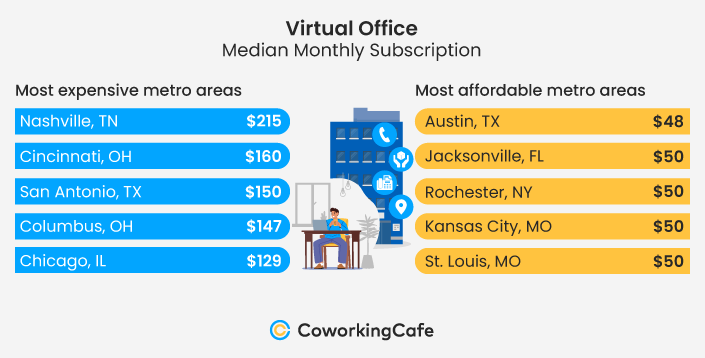 At the other end of the spectrum, the most affordable metros for virtual office coworking subscriptions included Austin, TX; Jacksonville, FL; Rochester, NY; St. Louis, MO and Kansas City, MO. Clearly, the coworking scenes in these metros tend to have a smaller addressable market than some of the more high-profile, expensive metros. Even so, these cities are up-and-coming and offer affordable virtual office options across the Midwest and along the Atlantic coast.
Although in the case of dedicated desks we saw a whopping $271 price gap between the extremes, the $215 median price in Nashville is more than four times higher than Austin's $48. This is a larger difference in relative terms, which can be attributed to the wider variation of services that virtual office subscriptions may or may not include. Specifically, the range and quality of virtual office services is largely dependent upon the available features and policies in place in each building, which falls outside the control of coworking operators. Likewise, this also explains how a vigorous tech center like Austin can have the lowest median price for virtual offices.
See the Median Coworking Subscription Prices in Your Area
Use our interactive bar chart to see local median coworking subscription prices, as well as how your city compares to the wider area:
Methodology
The study focused on median starting prices per person per month for virtual office, open workspace and dedicated desk coworking subscriptions.
To determine the most and least expensive regions, we sorted Metropolitan Statistical Areas based on the median monthly subscription price for each membership type (middle value from ordered list of starting prices).
MSAs with fewer than five separate listings were excluded to ensure a statistically significant sample size.
The study relied solely on the listing data available on CoworkingCafe as of February 8, 2023.
Fair Use & Redistribution
We encourage and freely grant you permission to reuse, host or repost the images in this article. When doing so, we only ask that you kindly attribute the authors by linking to CoworkingCafe.com or this page so that your readers can learn more about this project, the research behind it and its methodology.