Key takeaways:
Los Angeles, CA topped the list as the best overall city for cultural workations by attracting travelers with the most festivals and art dealers.
With high scores across the board, its unique Midwestern culture placed Chicago, IL firmly in second place in the country.
Miami, FL shines as a great city for amusement parks and outdoor recreation thanks to its incredible weather year-round.
Houston, TX emerged as an attractive destination for sports fans.
Washington, D.C. — with its many museums, historical sites and similar institutions — stood out as a great choice for history lovers.
With the ability to work from anywhere comes the enticing opportunity for the occasional workation, where remote workers combine time off with work.  While they aren't meant to replace a classic break, the benefits are unquestionable: Remote workers can now enjoy longer, more frequent getaways with less disruption to their work and a quicker return to peak productivity afterward.
The only question is where to go. And, while it might seem like remote workers are spoiled for choice, as always, not all destinations are created equal. Generally, culture-rich urban environments provide the most favorable setting, since they offer vibrant experiences and a refreshing change of scenery, as well as easy access to all that's needed to maintain productivity. Whether you're drawn to art, history, music, or food, in the top 15 cultural workation destinations you can engage your senses and open your mind to something new while prioritizing your mental well-being and personal growth.
To set up the overall ranking, we looked at the number of cultural attractions in the urban cores, as well as the employment in various fields of culture across the wider metro area as a measure of the city's dedication to promoting its culture and preserving cultural heritage. Additionally, we included the availability of coworking spaces as an indicator of each city's ethos regarding remote work in general. We then assigned all metrics equal weights and converted the absolute numbers into comparable scores.
Notably, the top 15 U.S. workation destinations are well-distributed across the country with the balance tipping just slightly toward the Western and Southeastern regions. We focused our research on cities with populations of at least 100,000 but excluded the New York Metropolitan Area — widely regarded as THE cultural hotspot, NYC would have dwarfed nearly every metric we've measured. Read more in the Methodology section.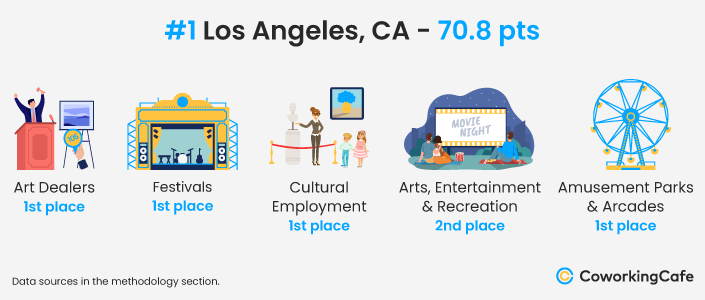 First on our list, Los Angeles, CA earned the highest overall score by coming in first nationwide for its 100 registered art dealers, 50 festivals throughout the year, and north of 100,000 active employees in cultural establishments throughout the wider metro area. And, because it's home to some of the world's most popular amusement parks — Universal Studios, Disneyland Resort and Knott's Berry Farm, to name a few — it's also no surprise that LA secured first place for amusement parks & arcades, too. The city's world-famous art scene also secured a podium placement in the Arts, Entertainment & Recreation category (right behind Nashville, TN).
At the same time, the vibrant arts scene and diverse cultural attractions — such as the Art Institute of Chicago, the Field Museum, Millennium Park and Navy Pier — earned Chicago, IL a second-place finish. The city also hosts a variety of festivals and events throughout the year, including Lollapalooza, the Chicago Air & Water Show, and Taste of Chicago. Chicago also has eight major league teams and five stadiums and indoor arenas. The home of the Bears and Chicago Fire FC, Soldier Field, is the largest, followed by the United Center where the Bulls and the Blackhawks play. Furthermore, with the Cubs and the White Sox attracting baseball fans to Wrigley Field and Guaranteed Rate Field — and Wintrust Arena housing the Chicago Sky of the WNBA — it's easy to find an excuse for a sport-themed workation.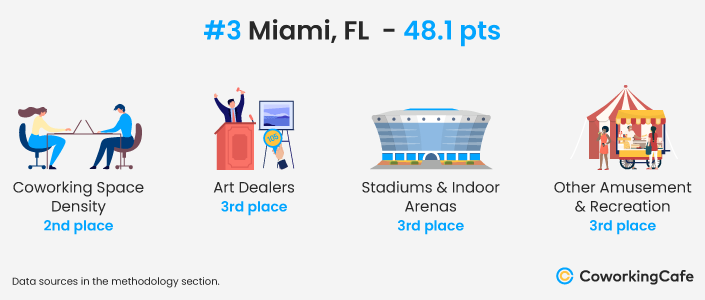 In third place, Miami, FL attracts visitors from around the world with cultural attractions like the Vizcaya Museum and Gardens, the Freedom Tower, and the Art Deco Historic District. The city is also home to numerous art dealers, as well as nearly 400 amusement and recreation establishments that fall outside of the other categories (mostly fitness centers, golf courses, country clubs, marinas and other recreational sports venues).
Ranking fourth overall, Houston, TX stood out with nine stadiums and indoor arenas and 442 venues in the "Other Amusement & Recreation" category, securing first place in both. The 20 art dealers in the city and 94 amusement parks within the wider metro also earned Houston two top-10 placements. From a baseball game at Minute Maid Park to rollercoasters at Six Flags Hurricane Harbor SplashTown, there's plenty of choice for after-hours fun. Or, you can visit the Museum of Fine Arts, Houston, the Houston Museum of Natural Science, or the Buffalo Soldiers National Museum.
In fifth place, Atlanta, GA took the top spot for its 22 coworking spaces per 100,000 residents — in fact, the Big Peach was the best U.S. city for remote workersin a recent study. Art enthusiasts shouldn't miss The High Museum of Art, while the Martin Luther King, Jr. National Historical Park and the National Center for Civil and Human Rights are mandatory for any history lover. Atlanta is also a hip-hop hotspot, but the Coca-Cola Roxy and the Tabernacle host high-profile concerts in all genres. The Georgia Aquarium and the Centennial Olympic Park are also must-see attractions.
Back on the West Coast, San Francisco, CA ranked first nationally with more than 40 museums, historic sites and similar institutions, as well as second for its more than 60 art dealers. It was also runner-up when it came to festivals, logging 26 major events — about half that of LA. From the renowned San Francisco International Film Festival or the quirky Bay to Breakers foot race to festivals that celebrate different cultures and traditions (such as the Chinese New Year Parade or the Carnaval Festival and Parade), the Golden City really does offer something for everyone.
Although Washington, D.C. was seventh overall, it scored first for its abundance of historic places worthy of preservation — and, implicitly, worth checking out. Hardly a surprise, the nation's capital is full of historic sites and must-see cultural attractions, like The White House and the National Mall, museums such as the Smithsonian Institution, and performing arts venues like the Kennedy Center. The city's remote work scene is also thriving with a sixth-place ranking for coworking space availability.
Another city steeped in history, Philadelphia, PA ranked second for its checklist of 36 museums and historic sites, and third in a related category by counting more than 600 historic places worthy of preservation. Visitors can learn about Philadelphia's rich past at Independence National Historical Park, as well as the Liberty Bell, Independence Hall, the Betsy Ross House, the Franklin Institute and the Philadelphia Museum of Art. Philly also boasts a vibrant food scene with Reading Terminal Market, one of the country's largest and oldest public markets, high on any foodie's list.
Although Seattle, WA didn't secure any podium placements, its balanced offer across most categories was enough for its well-earned ninth place. The Seattle Art Museum, the Museum of Pop Culture, and Museum of History & Industry are just three of the city's 20 popular museums. Seattle also boasts a vibrant arts and entertainment scene with more than 60 performing arts attractions, as well as almost 30 festivals, including the Seattle International Film Festival, Bite of Seattle, Northwest Folklife Festival and Seafair Torchlight Parade for any culture vulture's calendar.
Denver, CO rounded out the top 10, taking fourth place for its five stadiums and indoor arenas and seventh for its 318 historic places — the city is home to the Molly Brown House Museum and the Colorado State Capitol, just to name a few. Denver also took eighth place for its 23 art dealers, including the David B. Smith Gallery and the Santa Fe Art Gallery, as well as its 11 coworking spaces per 100,000 residents.
Although the next five cities didn't make the top 10, they all gathered more than 30 points overall, making them more than worthy of a prolonged visit.
Although it fell outside of the top 10, Nashville, TN is not called Music City for nothing. Its lack of establishments registered under Amusement Parks & Arcades cost it important points, however, Nashville was the richest destination when it came to Arts, Entertainment and Recreation establishments with a whopping 331 such establishments on record. The city was also on the podium for Stadiums & Indoor Arenas, sharing third place with Miami, Charlotte, N.C. and Sacramento, CA.
Out west,  Portland, OR followed in 12th place with more than 600 historic places, including the Pittock Mansion, the Portland Japanese Garden, and Powell's City of Books — the largest independent bookstore in the world. Portland is also known for its eccentric culture and vibrant food scene, making it worth a visit for at least a few days to experience life like a Portlander and soak up the local atmosphere.
Dallas, TX ranked 13th thanks to its vibrant arts an sports and entertainment scene, with teams representing the city in every major league sport, attracting crowds to AT&T Stadium, neighboring Globe Life Field, as well as American Airlines Center in Victory Park. Dallas also hosts a range of festivals and events, including the State Fair of Texas, the Dallas International Film Festival, and the Dallas Spring Arts Festival. There's also a rich selection of museums and theaters, including the Dallas Museum of Art, the Nasher Sculpture Center, and the Winspear Opera House.
In 14th place, San Diego, CA stood out for its amusement parks — including the world-famous San Diego Zoo, SeaWorld San Diego and LEGOLAND California — as well as nearly 400 additional establishments classified under the amusement and recreation umbrella. The city also hosts five important festivals throughout the year, including the San Diego Comic-Con International and KAABOO San Diego.
Orlando, FL came in 15th, outranked in the Amusement & Arcades category by the metropolitan areas of LA, Chicago, Dallas, Atlanta, Houston, and Miami. However, the city offers more than just thrills and spills, being home to the Orlando City SC and Orlando Pride major league soccer teams, the Orlando Magic in the NBA, as well as the UCF Knights college teams. Orlando also attracts visitors with a host of museums, theaters, and other cultural institutions, such as the Orlando Museum of Art, the Dr. Phillips Center for the Performing Arts, and the Harry P. Leu Gardens.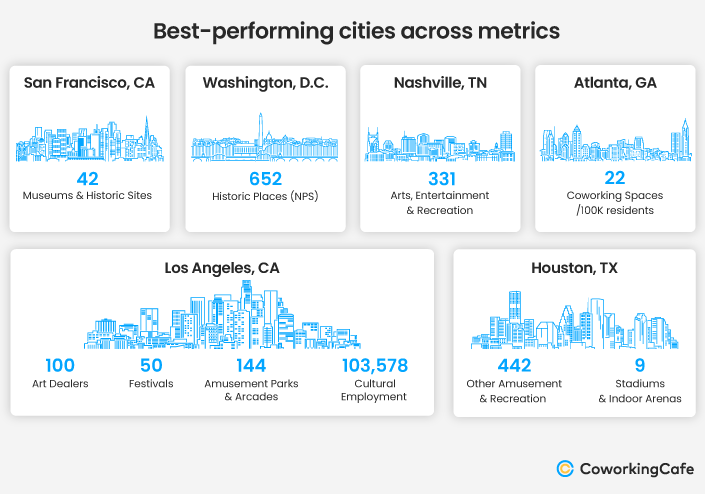 Whether you're a seasoned workationer looking for your next destination or are just dipping your toe in this innovative way to recharge your batteries, look no further than our shortlist of the best U.S. cities with vibrant cultural scenes. With a diverse range of attractions from famous museums and historic sites to lively festivals and music venues, these cities have something to offer everyone. And, with their growing remote work ecosystems, making the switch to a cultural workation has never been easier.
 Methodology 
CoworkingCafe focused on U.S. cities with populations of at least 100,000 and data available for all 10 metrics included in the analysis.
Data points were analyzed comparatively with the extreme values within the data pool determining the highest and lowest possible scores for each metric.
Census data was collected at ZIP-code level and aggregated to reflect a city-level overview. The exceptions are 'Amusement Parks & Arcades' and 'Cultural Employment,' where we extended the research to MSA-level to include establishments outside the city limits and provide a more accurate overview.
The New York Metropolitan Area was excluded from the analysis as its cultural dominance and unparalleled cultural offerings would have overshadowed the accomplishments of other workation destinations.
The final score was calculated using the following data points, each having a 10% weight in the total:
Museums, Historical Sites & Similar Institutions: Number of establishments classified under NAICS code 7121
(Source: U.S. Census Bureau – County Business Patterns, 2021)
Historic Places: The official list of the nation's historic buildings, monuments and places worthy of preservation
(Source: National Park Service – National Register of Historic Places, 2023)
Arts, Entertainment & Recreation: Number of establishments classified under NAICS code 7111
(Source: U.S. Census Bureau – County Business Patterns, 2021)
Art Dealers: Number of establishments classified under NAICS code 45392
(Source: U.S. Census Bureau – County Business Patterns, 2021)
Stadiums & Indoor Arenas: Number of major functioning sports stadiums and arenas
(Source: Wikipedia; online research, 2023)
Festivals: Number of music, film, culinary and other festivals
(Source: Music Festival Wizard; New York Film Academy; Wikipedia, 2023)
Amusement Parks & Arcades: Number of establishments classified under NAICS code 7131
(Source: U.S. Census Bureau – County Business Patterns, 2021)
Other Amusement & Recreation Industries: Number of establishments classified under NAICS code 7139
(Source: U.S. Census Bureau – County Business Patterns, 2021)
Cultural Employment: Number of people employed in the establishments classified under the NAICS codes 7111; 7112; 7121; 7131; 7139; 45392, as well as Independent Artists, Writers and Performers
(Source: U.S. Census Bureau – County Business Patterns, 2021)
Coworking Spaces: Number of active coworking spaces per 100,000 residents
(Source: CoworkingCafe, 2023)
Fair Use & Redistribution
We encourage you and freely grant you permission to reuse, host, or repost the images in this article. When doing so, we only ask that you kindly attribute the authors by linking to CoworkingCafe.com or this page, so that your readers can learn more about this project, the research behind it and its methodology.