Key Takeaways:
Finally at a safe distance from the first (and even the last) lockdowns of the COVID-19 pandemic, we might dare say that the much-talked-about "new normal" is now here. By this August, 13% of full-time employees were fully remote, and 30% were working in a hybrid arrangement according to the latest issue of WFH Research's Survey of Working Arrangements and Attitudes. Now, it looks like companies — as well as entire industries around the world — have adopted remote or hybrid work not just as a trend or a temporary measure, but as the default framework for at least some of their activities.
While being able to work from anywhere is literally what remote work is all about, the reality is that some cities offer a more conducive environment for efficient remote or hybrid work than others.
To that end, an ideal telecommuting hub should offer essential remote work infrastructure and a culture that embraces flexibility, all while ensuring a balanced lifestyle. It should also minimize commute time and maximize productivity and overall quality of life.
So, for a fair comparison, we considered various factors that influence remote work and how people can reap its benefits in their personal lives. Specifically, we explored 11 key metrics grouped into four categories — remote work, economy, connectivity and infrastructure. These included the share of remote workers, the availability of coworking spaces, the accessibility of broadband internet, income, entertainment options and more. These were then standardized into a scoring system and carefully weighted for an easier overview.
In this study, Atlanta emerged as the best city for remote workers overall ­— and, with Arlington, VA and neighboring Washington, D.C. in such a close race for the podium, the South-Atlantic region was prominent. However, with Seattle in second place, and San Francisco hot on D.C.'s heels, the two coasts were equally well-represented in the top-end of the leaderboard. A similar balance was seen further inland, too, with two other Western cities in the top 10 — as well as the Southern, Midwestern and Northeastern regions each throwing one high-scoring city into the mix.

First up, Atlanta, GA earned an impressive 72.3 points out of a possible 100 to secure the top spot in our ranking. Its success stemmed from a thriving telecommuting culture with nearly 30% of its workforce working remotely. This achievement — along with a record-breaking 679 entertainment establishments per 100,000 residents — positions The Big Peach as a prime destination not just for remote work, but also for its variety of leisure options.
Moreover, Atlanta boasts robust infrastructure support for flexible work with 22 coworking spaces per 100,000 residents — the highest density in the nation. Likewise, the city's abundance of public Wi-Fi hotspots (30 per 100,000 residents) further enhances its appeal, thereby fostering an environment that's conducive to efficient remote work and incentivizing companies to embrace decentralized workspaces. As a result, this balanced approach to remote work and a vibrant leisure scene catapulted Atlanta to the forefront of telecommuting havens.

Just two points behind Atlanta, Seattle, WA earned second place along a similar pattern. With no less than 36% of the working population telecommuting, Emerald City also boasts a thriving remote work culture, leading the way for the rest of the nation when it comes to the adoption of flexible work. Salaries were also a strong argument for a remote job in Seattle: the $73,500 median income here placed the city in the same league as Washington, D.C. in this regard.
Additionally, with no less than five airports within a 70-mile radius, Seattle is also a viable place for hybrid employees who can get away with just a few office visits every year, thereby escaping the city's otherwise quite disheartening cost of living (which is almost 49% above the national average).

Next, Arlington, VA, stood out as a prime destination for remote workers with an impressive set of statistics. For instance, it had the highest median income in the nation at $87,000, offering a lucrative landscape for professionals, especially in the government and tech sectors. Just a hair behind Seattle, Arlington also registered a substantial 35.8% share of remote workers, which reflects a robust remote work culture.
In addition to its economic merits, Arlington also stood out in terms of the job security it offers with an impressively low unemployment rate of just 2% — the lowest among the top 10 cities. Furthermore, Arlington embraces the digital age with a whopping 99.2% broadband Internet coverage to provide top-tier connectivity for remote professionals. With these exceptional attributes, Arlington secured its place as one of the top cities for remote work in the United States.
Nearby, Washington, D.C. was a worthy challenger for the podium ­— and not just for next-door neighbor Arlington. In the granular breakdown, the nation's capital was also hot on the heels of Atlanta in the remote work category, coming in second for its availability of coworking spaces (14 facilities for every 100,000 residents) and scoring even higher than the leader for the adoption of remote work with almost 34% of workers telecommuting. What's more, the 76.7 Walk Score also makes Washington, D.C. one of the most livable big cities for those who want to minimize their time spent in traffic or cut ties with their car altogether, not to mention the $74,436 median income — another metric only outdone by Arlington and San Francisco.
Speaking of San Francisco, CA, the Golden City emerged as the best place for remote workers on the West Coast by offering a unique blend of urban charm and accessibility. Namely, with an exceptional Walk Score of 88.7, it was the most walkable city in the nation. This gains even more importance when we consider remote work for the benefits it brings into people's personal lives. To that end, San Francisco's commitment to a balanced work/life experience — coupled with its thriving cultural scene — provides a uniquely inviting environment for remote workers to use the time they would normally spend commuting to instead explore the vibrant cityscape or just step out for a mid-day breath of fresh air. Additionally, the city is also well-connected with four airports within a 70-mile radius, which ensures easy access for those occasional in-person meetings or team getaways.
Moving further inland, Scottsdale, AZ received high scores for its job security and financial indicators. In particular, the city stood out for its 2.6% unemployment rate (the second-lowest within the top 10 and right behind Arlington's 2%). This — coupled with a $61,500 median income — earned Scottsdale second place in the economy subcategory, once again outranked only by Arlington. The city also performed well in the remote work and connectivity categories. Notably, the share of remote workers reached 34% here and the average internet speed clocked in at 495 Mbps.
Next, Denver, CO may not have claimed top positions in individual metrics, but it nevertheless scored consistently high across the board, pushing it all the way to seventh place on the leaderboard. Still, the Mile High City boasted an excellent 99.1% broadband Internet coverage (a close match for Arlington), as well as a strong presence of coworking spaces, coming in third among the top cities for remote workers with 11 such facilities per 100,000 residents.
Further south, Austin, TX performed exceptionally well in the economy subcategory. While the $53,729 median income was outdone by several top-10 contenders, Austin's 3% unemployment rate was only matched by Arlington and Scottsdale to earn the Texas city the third-highest score in the economy subcategory. Apart from this, Austin received high scores across all subgroups, making it a well-rounded destination for remote workers.
Notably, in ninth place, Minneapolis, MN beckons remote workers with affordable prices, great connectivity, and plenty of opportunities to wind down after hours, thereby making it a great place to enjoy life as a remote worker. It also boasted a 97.6 cost of living score, which was 2.4% below the national average. Plus, the city also ranked third for Internet coverage with 98.7% of addresses having access to a broadband connection. And, with 592 entertainment establishments per 100,000 residents, Minneapolis also offers a vibrant cultural scene. In fact, in one of our previous studies, Minneapolis was recognized as the best U.S. city for work/life balance, making it a prime choice for remote professionals.
Meanwhile, Pittsburgh, PA, claimed the 10th spot in our overall ranking for remote work. By individual metrics, Steel City shared third place with Denver for its density of coworking spaces with 11 flex offices for every 100,000 residents. Additionally, Pittsburgh boasted the second-lowest cost of living score in the top 10 with prices hovering slightly below the national average. What's more, with a strong infrastructure — including four airports within a 70-mile radius — it also ensures manageable long-distance visits. The city also offers a vibrant social life with 672 entertainment venues per 100,000 residents to rival even Atlanta.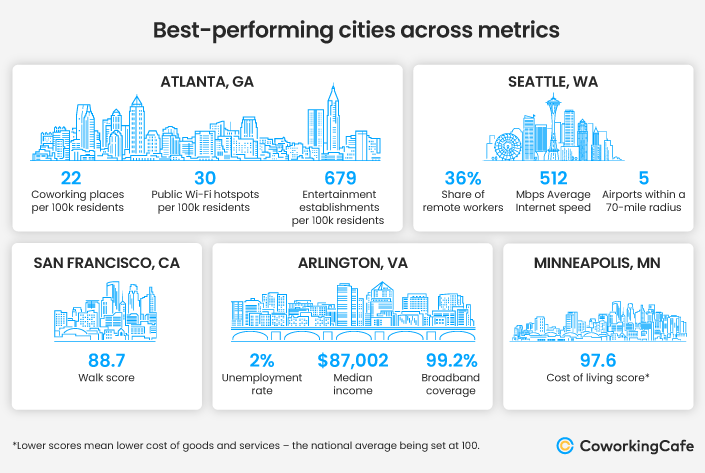 In the realm of remote work, the world is your office. But, as we've uncovered, not every location offers the same blend of quality of life and productivity. As such, there's a significant difference in how much one can actually enjoy the benefits of telecommuting.
While the virtual era has liberated us to work from almost anywhere, the nuances of our surroundings can profoundly influence the remote work experience. In any case, it looks like a robust infrastructure, a stable economy and vibrant surroundings for when the workday is over are just as important in the age of Zoom calls as ever before — if not more.
Methodology
CoworkingCafe focused on U.S. cities with at least 200,000 residents that had data for all metrics analyzed.
Data points were analyzed comparatively with the extreme values within the data pool determining the highest and lowest possible scores for each metric.
The total score was calculated using the following data points and weighting:
Remote Work Score – 30% of the final score
- Share of remote workers: Share of working population that doesn't commute to work. [U.S. Census Bureau – one-year estimates (2022 – city level)] –60%
- Coworking space density: Number of coworking spaces per 100,000 residents. [Commercial Edge (August 2023 – city level)] –40%
Economy Score – 30% of the final score
- Cost of living: Composite index for the cost of living. State-level data was used where city-level was not available. [Council for Community and Economic Research (Q1 2023 – city level)] –40%
- Median income: Median earnings in the past 12 months (in 2022 inflation-adjusted dollars) for population 16 years and older with earnings. [U.S. Census Bureau – one-year estimates (2022 – city level)] –40%
- Unemployment rate: Percentage of unemployed population. [U.S. Census Bureau – one-year estimates (2022 – city level)] – 20%
Connectivity Score – 25% of the final score
- Average Internet speed: Average Internet speed in Mbps. [BroadbandNow (city level)] – 40%
- Public Wi-Fi density: Ratio of free public Wi-Fi hotspots available per 100,000 residents. [Wi-Fi-FreeSpot (city level)] – 30%
- Broadband coverage: Ratio of broadband Internet coverage. [BroadbandNow (city level)] – 30%
Infrastructure Score – 15% of the final score
- Walkability: Walkability and pedestrian-friendliness score based on the availability and length of walking routes to nearby amenities, considering every city block, weighted by population density. [Walk Score (2021 – city level)] –40%
- Density of entertainment establishments: Number of entertainment establishments (categorized by the U.S. Census Bureau as performing arts; spectator sports; museums, historical sites and similars; amusement parks and arcades; other amusement and recreation; drinking places; restaurants and other eating places) per 100,000 residents. [U.S. Census Bureau – Census Business Patterns (2021 – city level)] – 30%
- Airports within 70 miles: Number of airports at a maximum distance of 70 miles. [ClosestAirportTo.com (2023 – city level)] – 30%
Fair Use & Redistribution
We encourage you and freely grant you permission to reuse, host, or repost the images in this article. When doing so, we only ask that you kindly attribute the authors by linking to CoworkingCafe.com or this page, so that your readers can learn more about this project, the research behind it and its methodology.