Welcome to our exclusive offering of office space for lease in a desirable location, with access to multiple expressways. This meticulously designed and well-appointed office space provides an ideal environment for businesses looking to establish or expand their presence. With its strategic location, this office space offers an exceptional opportunity for companies of all sizes and industries. Location: Situated right off M-14 with easy access to Detroit and Ann Arbor. Our office space enjoys excellent connectivity and accessibility. It is conveniently located near major highways, and key amenities such as restaurants and hotels. This prime location ensures that your business is well-connected to clients, partners, and a skilled workforce. Modern Infrastructure: The office space boasts a contemporary design that merges functionality and aesthetics seamlessly. With well-lit, spacious interiors, fully furnished offices, and ergonomic workstations , it provides an inspiring and comfortable environment for your team. The thoughtfully designed layout ensures maximum efficiency and productivity, promoting collaboration and creativity among employees. Amenities and Facilities: Our office space comes equipped with a range of amenities and facilities to meet the diverse needs of your business. From high-speed internet connectivity and advanced telecommunications infrastructure to state-of-the-art conference rooms and dedicated meeting spaces, every aspect of your professional requirements is catered to. Additionally, secure access, ample parking, and 24/7 surveillance ensure a safe and secure working environment. Flexibility and Scalability: We understand that businesses evolve and grow over time. Whether you require a small private office or multiple co-working space for your expanding team, we can provide customized solutions that align with your business objectives. Conclusion: Secure your place in this premium office space for lease and give your business the advantage it deserves. Enjoy the benefits of a prime location, modern infrastructure, and a host of amenities that will enhance your professional environment. With our commitment to exceptional service and support, we strive to create an ideal workplace that fosters success and growth. Contact us today to schedule a tour and experience the potential of this exceptional office space.
read more
read less
Available Workspaces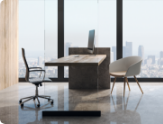 Hours of Operation
Monthly memberships allow 24/7 access to our space.
For meeting rooms and day passes, please see our hours of operation.
Walk & Ride
9/100

Car-Dependent

28/100

Somewhat Bikeable
The area near 47911 Halyard Drive is very much car-dependent. Services and amenities are not close by, which requires residents here to rely on their own means of transportation. 47911 Halyard Drive's bikeable score is relatively low and has minimal infrastructure dedicated to cycling.
read more
read less
Location
Address:

47911 Halyard Drive

Neighborhood:

Plymouth

City:

Plymouth Charter Township, MI

Zip Code:

48170
Calculate Your Commute
Calculate commute by driving, cycling or walking, where available.
Commute calculator powered by Walk Score® Travel Time
Local Highlights
Holiday Inn Express Plymouth - Ann Arbor Area

1.03 miles

Hilton Garden Inn Plymouth

2.34 miles

The Inn at St. John's

2.67 miles

Red Roof Inn

5.00 miles

Residence Inn

5.33 miles

Fairfield Inn

5.38 miles

TownePlace Suites

5.40 miles

Comfort Suites

5.68 miles

Baymont Inn

5.70 miles

TownePlace Suites

5.72 miles
Plymouth Scholars Charter Academy

0.48 miles

Ivywood Classical Academy

0.53 miles

Our Lady of Providence School

1.43 miles

Ridge Wood Elementary School

1.65 miles

New School High

2.24 miles

Bird Elementary School

2.29 miles

West Middle School

2.40 miles

Northville High School

2.42 miles

Pioneer Middle School

2.47 miles

Saint Peter Lutheran Day School

2.61 miles
Ruby Tuesday

0.92 miles

McDonald's

0.96 miles

Subway

1.07 miles

Jimmy John's

1.08 miles

Red Olive Family Restaurants

1.10 miles

Arby's

1.12 miles

Asian Buffet

2.21 miles

Mother's Pizzeria

2.23 miles

Einstein Bros Bagels

2.26 miles

La Fresh Mediterranean Grill

2.26 miles
Busch's

2.27 miles

Steeplechase

2.32 miles

Kroger

2.88 miles

Westborn Market

2.96 miles

Kroger

4.14 miles

Kroger

4.50 miles

Bombay Grocers

4.62 miles

Kohl's

4.75 miles

Kroger

4.78 miles

TJ Maxx

4.79 miles
.

3.52 miles

Masjid Bilal Parking Lot

4.64 miles

Canton Chinatown District

4.68 miles

Center Parking Lot

5.36 miles

South Parking Lot

5.41 miles

North Parking Lot

5.51 miles

Seven Mile Parking Lot

5.57 miles

East Parking Lot

5.60 miles

North Parking Lot

5.64 miles

MDOT Carpool Lot

5.78 miles
Car Wash

3.14 miles

Mr. Suds Car Wash

5.74 miles

TLC Car Wash

6.29 miles

Zax Auto Wash

6.88 miles

The Original $3.99 Car Wash

7.26 miles

Budget

7.33 miles

Canton Auto Wash

8.07 miles

Enterprise

8.96 miles

Colonial Car Wash

9.01 miles

Enterprise Car Rental

9.55 miles
Frequently Asked Questions
How many coworking spaces are in Plymouth?

There are 1 coworking spaces available right now in Plymouth. However, if you broaden your search region to better match the location of your home or explore a certain area of interest, you'll likely find additional options as some coworking spaces are also available outside of the major commercial areas in the suburbs.

Are there any pet-friendly coworking spaces in Plymouth?

There are coworking spaces in Plymouth that accept pets so you can bring your four-legged companion and keep them nearby while you work. When looking at the available options, narrow your search to ensure that you pick a pet-friendly location by selecting the "pet-friendly" filter. If you're still unsure, reach out to the operator and ask them about this policy.

What types of coworking spaces are available?

Most coworking spaces in Plymouth offer a variety of working configurations that accommodate both individual employees and larger teams. So, whether you need a desk in an open area for occasional use or a dedicated one to work from on a more regular basis, there are several options available. Additionally, teams of different sizes can get more privacy in private offices, while meeting rooms are ideal for hosting presentations or meeting with clients.

Can I visit or tour the coworking space before making a decision?

Coworking spaces frequently let you visit the facility before committing to any kind of membership. Some even offer virtual tours that you can view from the comfort of your home. These tours allow you to see the space's layout and the many working arrangements, as well as the design as a whole. By doing so, you can determine whether the space meets your demands in order to make a wise choice.

Can I book a coworking space by the hour? How about for a day/month?

In Plymouth, the majority of coworking spaces do provide flexible booking alternatives. However, keep in mind that, although monthly rates are widely available, not all operators provide daily bookings. Hourly reservations are generally used for meeting spaces and are less common when it comes to access to the general workspace.