The TRUE Space business center in Smyrna offers affordable executive suites, dedicated work areas and virtual offices in a desirable area of Atlanta. Specifically, with month-to-month leasing options and the ability to downsize or expand — including from virtual to on-site office space — it supports its members with incredible flexibility in a convenient Atlanta metro location.
Notably, TRUE Space Smyrna's offices and suites come in a variety of sizes to meet the needs of individuals, as well as teams. For instance, corner offices have large windows that allow ample sunlight and glass desks that look sophisticated and professional. Likewise, most of the smaller suites also have large windows, and their expansive, L-shaped desks are perfect for spreading out work and discussing operations with fellow team members. Alternatively, cubicles and dedicated desks that serve as silent workstations are also available and are good choices for remote and hybrid workers. Plus, TRUE Spaces' month-to-month terms allow individuals and businesses to shift work areas as needed every month to meet their evolving needs.
Here, on-site members enjoy 24/7 access and free parking. Additionally, high-speed wired and wireless internet is available throughout — including in the spacious conference room — and all offices and workstations come with lockable cabinets and ergonomic, adjustable chairs. A break room with a microwave and refrigerator is also provided, as is a beautiful reception area for meeting clients and guests.
Furthermore, like on-site members, those with virtual offices benefit from a professional business address and mail services. In fact, they can reserve conference space online, while on-site members are afforded several complimentary hours every month, depending on their level of membership. To that end, the conference room is presentation-ready with a 48" TV and features a modular conference table that can be divided into four sections for training sessions, breakouts and a classroom setting.
Finally, TRUE Space Smyrna is located near many retailers, restaurants and coffee shops. Just outside the junction of interstates 285 and 75, it's also near the Atlanta Braves Stadium and the many shops and entertainment options at The Battery.
Amenities
Facilities
Mail services
Parking
Receptionist/Secretarial services
Available Workspaces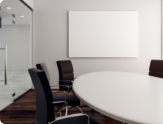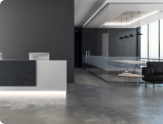 Walk & Ride
60/100

Somewhat Walkable

36/100

Somewhat Bikeable
The vicinity of 2296 Henderson Mill Road is relatively walkable. You can run some errands on foot, as certain facilities and services are close by. 2296 Henderson Mill Road's bikeable score is relatively low and has minimal infrastructure dedicated to cycling.
read more
read less
Location
Address:

2296 Henderson Mill Road

Neighborhood:

Briarcliff

City:

Atlanta, GA

Zip Code:

30345
Calculate Your Commute
Calculate commute by driving, cycling or walking, where available.
Commute calculator powered by Walk Score® Travel Time
Local Highlights
Chamblee

3.63 miles

Doraville

3.70 miles

Brookhaven

4.62 miles

Avondale

5.50 miles

Kensington

5.53 miles

Lenox

5.67 miles

Decatur MARTA Sycamore Entrance

5.75 miles

Decatur

5.77 miles

Decatur MARTA Swanton Entrance

5.79 miles

Indian Creek

5.96 miles
Tru by Hilton Atlanta Northlake Parkway

0.36 miles

TownePlace Suites Atlanta Northlake

0.40 miles

Holiday Inn

0.53 miles

Quality Inn Northlake

0.58 miles

Courtyard Atlanta Northlake

0.70 miles

DoubleTree

0.71 miles

Holiday Inn

0.95 miles

Days Inn

1.04 miles

Knights Inn

1.68 miles

Motel 6

1.77 miles
Henderson Mill Elementary School

0.27 miles

Hawthorne Elementary School

0.94 miles

Henderson Middle School

1.08 miles

Briarlake Elementary School

1.09 miles

Mercer University in Atlanta

1.37 miles

Midvale School

1.43 miles

Mercer University, Atlanta

1.43 miles

Lakeside High School

1.55 miles

The Globe Academy

1.81 miles

Evansdale Elementary School

1.84 miles
Pizza Hut

0.17 miles

Tokyo Express

0.28 miles

Fiesta Grill

0.30 miles

Cozy Burger

0.30 miles

American Deli

0.30 miles

Mandarin Express

0.30 miles

Cairo Cusine

0.30 miles

Pretzelmaker

0.31 miles

Dairy Queen

0.33 miles

Subway

0.39 miles
Sears

0.22 miles

Kohl's

0.25 miles

Northlake Mall

0.27 miles

JCPenney

0.33 miles

Publix

0.37 miles

Macy's

0.39 miles

TJ Maxx

0.39 miles

Briarcliff Village

0.40 miles

Kroger

0.65 miles

ALDI

0.76 miles
Regal Hollywood 24

1.67 miles

Chamblee East Park and Ride

3.58 miles

Doraville Park & Ride

3.61 miles

Chamblee Northwest Park and Ride

3.62 miles

Doraville MARTA Station Park & Ride

3.65 miles

Doraville MARTA Station Park & Ride

3.68 miles

Chamblee Southwest Park and Ride

3.68 miles

Clairmont Presbyterian Church

3.83 miles

Brookhaven Station Park & Ride

4.58 miles

Clairmont EFGH Deck

4.72 miles
Georges Cleaners

0.55 miles

Budget

0.87 miles

Enterprise

3.12 miles

Bubbles Car Wash

4.00 miles

Enterprise

4.19 miles

U-Haul

4.74 miles

Car wash

4.76 miles

Zipcar

5.64 miles

BP

5.84 miles

Soap Hand Car Wash

5.97 miles
Frequently Asked Questions
What should a good coworking space in Atlanta provide?

A good coworking space should provide all of the basic amenities needed to get work done — like fast and reliable Wi-Fi, ergonomic furniture and different types of work or relaxing areas — but also extra features, such as printing, copying and scanning services or complimentary beverages or even snacks. Aside from these, coworking spaces provide different work arrangements that suit the varying needs of workers, from open desk areas to private offices. Notably, one of the most beneficial traits of a good coworking space is its community. In most cases, coworking operators foster and nurture a sense of community by allowing different workers from various backgrounds to come together and participate in exciting and fun activities, events and gatherings outside of working hours.

How many coworking spaces are in Atlanta?

Currently, there are 109 coworking spaces up for grabs in Atlanta. However, you can always expand your area of search based on your location or according to convenience. In some cases, you can even find coworking spaces in the suburbs or outside of the main business district.

Can I visit or tour the coworking space before making a decision?

In many cases, coworking spaces allow you to take a tour of the location before you fully commit to any type of membership. Some even have virtual tours that you can take from the comfort of your own home. These allow you to view the space, the floorplan, the different types of working arrangements, and the overall design and vibe of the space. This way, you can see if the space matches your needs to make an informed decision.

Are there any pet-friendly coworking spaces in Atlanta?

Some coworking spaces have a pet-friendly policy, allowing you to bring your furry friend and keep them close during your workday. To make sure that you see all of the pet-friendly spaces, filter your search by selecting the "pet-friendly" filter when browsing options in Atlanta. Or, if you're not completely sure, reach out to the operator to inquire about this policy.

Can I book a coworking space by the hour? How about for a day/month?

Coworking spaces in Atlanta offer highly flexible options when it comes to different work arrangements, however, not all operators offer hourly and daily bookings. These are generally reserved for meeting rooms and event spaces and are generally less applicable to common work arrangements, like an open workspace or a dedicated desk. However, hot desks are available in some locations and certain operators enable day passes or a trial period, for users who want to test the waters before committing to a space.
True Space
TRUE Space
(404) 965-4141
Why Choose True Space
TRUE Space's Atlanta virtual offices enable you to put your business on the map for potential clients to see!