Humanly is a coworking space that prioritizes flexible membership options to meet your business' needs as it grows and your requirements change — whether you're just starting out or are a bit more established. Designed with health professionals in mind, this community is comprised primarily of mental health therapists, psychologists, social workers, psychiatrists, nutritionists, acupuncturists and others. Here, you can get to know the other members working alongside you through the variety of events, networking opportunities, speaking engagements and direct introductions hosted by Humanly.
Notably, memberships at Humanly are built around how much time you plan to spend in the office, so members can book spaces by the hour, day or month. The hourly memberships are ideal for those who are just starting their practice, and you can book the space anywhere from 30 minutes to two hours at a time. Or, if you're a bit more established, the daily memberships allow you to claim an office for a specific day every week of the month or book it for one month altogether. Alternatively, for multiple months, the by-the-month membership gets you a private space for a flat monthly fee. You can even choose from the available spaces and customize them to fit your needs and your style. Check online to see which spaces are currently available.
The Highlands location of Humanly is in an excellent spot in the Highland neighborhood of Denver. Specifically, it's surrounded by many restaurants, bars, and cafes that you can enjoy on breaks, which are ideal for happy hours with other Humanly members or for informal meetings with clients. Plus, for those who travel for work or have clients who travel, the Denver International Airport is located nearby and there are many hotels for a convenient place to stay close to Humanly. Finally, in your downtime, you can also enjoy the local landmarks, including museums, gardens and arenas.
read more
read less
Amenities
Caffeine zone
Complimentary coffee & tea
Available Workspaces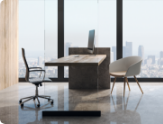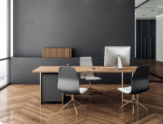 Hours of Operation
Monthly memberships allow 24/7 access to our space.
For meeting rooms and day passes, please see our hours of operation.
Walk & Ride
90/100

Very Walkable

46/100

Some Transit

88/100

Very Bikeable
The area near 2855 North Speer Boulevard is ideal for walkers. A car is not required to run errands because everything is nearby. Regarding transit, only a few options are currently available for public transportation. 2855 North Speer Boulevard is located in a highly bikeable area that provides a complex cycling infrastructure for your convenience.
read more
read less
Calculate Your Commute
Calculate commute by driving, cycling or walking, where available.
Commute calculator powered by Walk Score® Travel Time
Local Highlights
Ball Arena / Elitch Gardens

0.84 miles

Union Station Light Rail Plaza

0.93 miles

Empower Field at Mile High

1.06 miles

Union Station

1.08 miles

Auraria West Campus

1.22 miles

Decatur Federal

1.43 miles

Colfax at Auraria

1.55 miles

Theatre District / Convention Center

1.60 miles

41st & Fox

1.64 miles

Knox

1.67 miles
Residence Inn Denver Downtown

0.20 miles

Rodeway Inn Denver Downtown

0.25 miles

Hampton Inn & Suites Denver-Speer Boulevard

0.26 miles

Fairfield Inn & Suites Denver Downtown

0.29 miles

Kimpton Hotel Born

1.02 miles

Hotel Born

1.02 miles

Hotel Indigo Denver Downtown-Union Station

1.09 miles

Hilton Garden Inn

1.12 miles

The Crawford Hotel

1.12 miles

SpringHill Suites by Marriott Denver Downtown

1.12 miles
Academy of Urban Learning High School

0.19 miles

North Denver High School

0.20 miles

Career Education Center Early College of Denver

0.20 miles

Donna Baldwin Modeling Agency

0.35 miles

Dominican Novitiate

0.37 miles

Family Star Montessori School

0.56 miles

Emmaus Lutheran School

0.56 miles

Academia Ana Marie Sandoval

0.71 miles

Brown Elementary School

0.76 miles

Escuela De Guadalupe

0.87 miles
Ros Siam

0.18 miles

Araujo's Restaurant

0.28 miles

Taqueria La Familia

0.29 miles

Rosales Mexican Bakery Panaderia

0.29 miles

Crepes 'n Crepes

0.29 miles

Patzcuaro's Mexican Restaurant

0.29 miles

Park Burger Highlands

0.30 miles

Spuntino

0.30 miles

La Mexicana Taqueria

0.31 miles

Subway

0.31 miles
Safeway

0.26 miles

K Food Market

0.30 miles

Leevers Locavore

0.77 miles

Whole Foods Market

1.02 miles

King Soopers

1.15 miles

Skye Market & Liquor

1.15 miles

Friendly Market

1.20 miles

Safeway

1.50 miles

Pacific Mercantile

1.52 miles

Natural Grocers

1.54 miles
Riverside Baptist Church Parking

0.42 miles

Mile High Stadium Parking Lot "H"

0.68 miles

Mile High Stadium Parking Lot "I"

0.73 miles

Turntable Studios Parking

0.73 miles

Mile High Stadium Parking Lot "G VIP"

0.80 miles

Mile High Stadium Parking Lot "L"

0.80 miles

Mile High Stadium Parking Lot "F"

0.85 miles

Mile High Stadium Parking Lot "R"

0.86 miles

Ball Arena Tacoma Lot

0.87 miles

Mile High Stadium Parking Lot "J VIP"

0.88 miles
Enterprise

0.27 miles

High Performance Car Wash 2

0.53 miles

Hi-Performance Car Wash

0.54 miles

#220 Riverfront Park

0.85 miles

Mr. Car Wash and Detail Service

1.11 miles

Imperial Car Wash

1.34 miles

Pete's Car Wash

1.39 miles

Circle K

1.55 miles

Gleam Car Wash

1.74 miles

Hi Performance Car Wash II

1.76 miles
Frequently Asked Questions
What types of coworking spaces are available?

In Denver, there are various coworking spaces that enable different working arrangements — whether that's a desk in an open workspace, which is ideal for collaboration, a dedicated desk that will be assigned only to you, or a private office that enables more privacy for both individual workers and teams. Most coworking spaces also have meeting or conference rooms where you can host client meetings, brainstorming sessions or presentations. These are often bookable by the hour.

What should a good coworking space in Denver provide?

A good coworking space should offer all of the essential amenities required to work efficiently and comfortably — like a quick and reliable internet connection, ergonomic furniture, tech equipment and various work or relaxation areas — but also some extra perks, such as printing, copying, and scanning services or complimentary snacks and beverages. Plus, coworking spaces offer various work settings, such as open desk areas and private offices to accommodate workers' diverse needs. Last, but not least, a solid coworking space community is one of its best qualities. To that end, coworking business owners often cultivate and support a sense of community by organizing networking events to help members connect and socialize.

How many coworking spaces are in Denver?

Right now, you can choose from 72 coworking spaces available in Denver. But, depending on your home base or certain neighborhoods that are desirable to you, you can always broaden your search to include wider areas outside of the central business district or even those that include suburbs.

Can I visit or tour the coworking space before making a decision?

In some cases, coworking operators will provide you with a free tour of the space before you can make your decision. By doing so, you can assess the space's floorplan, the different work areas, the overall amenities, and the quality of the site to see if they match your needs and overall vision. At the same time, some operators have virtual tours that you can take from the comfort of your own home — without having to make an extra trip.

Are there any pet-friendly coworking spaces in Denver?

In some coworking spaces, pets are more than welcome as they bring an extra dose of joy to the members of the community. If your furry friend needs to accompany you during your workday, make sure to filter your search and choose from the pet-friendly coworking spaces available in Denver. However, if you're not sure about a location's policy, you can always reach out directly to the operator to inquire about that.
Humanly
Humanly
(720) 770-8222
Why Choose Humanly
Wellness starts with we. On-demand therapy & wellness spaces that provide the supplies and utilities you need to run a thriving business.