Key Takeaways:
Porto is the ultimate city for combining business and leisure this summer, mainly due to affordable flights from and to the U.S., as well as low cab fares.
The Spanish cities of Alicante, Vigo and Valencia closely follow Porto in our ranking. All of these locations boast excellent beaches, along with a great cost of living.
Among the top 20 European destinations ideal for a sunny workation, Spain checks the highest number of cities (eight); followed by Italy with five; and Portugal and Greece with two each.
Working professionals on the move have the highest chances of finding an ideal coworking space in Barcelona as the city logs 170 such flex workspaces.
The flight across the pond may be long, but Europe's gorgeous beaches, stunning architecture, rich history and delicious cuisine sure make it all worth it. However, if a regular vacation is out of reach this year and you absolutely must squeeze in some work between swimming in the sea, sightseeing and tanning sessions, there are a few factors that you should consider before booking your trip. Especially if remote work enables you to be away from home for a month or two, finding a perfect beach destination to seamlessly combine work and play can be a dream come true — but also a bit of a challenge.
For this reason, we used a comprehensive set of metrics to analyze more than 50 cities to determine the absolute best European beach destination for an American flexcation — somewhere you can put in your best work, while also enjoying summer and that timeless European charm. From the average flight cost to the monthly rent and the cost of utilities, we considered and weighted the most crucial factors about the perfect beach cities for mixing work and leisure to give you a better idea of where to let your wanderlust guide you this summer.
Wine-Tasting in Porto or Sangria in Alicante? The Best Cities for Business & Leisure Are in Portugal & Spain

We're not saying that port wine is a standalone reason to travel to Porto this summer, but we also wouldn't judge you if it were. Apart from its renowned wine and cuisine, Porto is the ultimate destination for Americans working near beaches in Europe due to its high rankings across the board. This stunning, historic city with century-old architecture is quite easy to get to and enables the cheapest flights from and to the U.S., at an average of $759 for a round trip.
Likewise, getting around the city is also affordable. In fact, taxi rides in Porto are the second-cheapest among the 50+ cities we analyzed, coming in at only $1.20 per mile. That's great news given that the city boasts some fascinating sites, like the stunning Duoro River, the historic Ribeira district, impressive bridges like Dom Luís I Bridge, and, of course, gorgeous, sandy beaches that are a short, 15-minute drive from downtown — all ideal options to enjoy after a productive day's work. Speaking of which, Porto also claims a solid stock of coworking spaces (54) for those who need a professional environment to conduct their work, as well as an affordable monthly mobile plan — the cheapest on our list, at only $15.

History buffs will be more than happy to know that Alicante is the second-best European city for an American workation, mostly due to its low overall monthly cost of living of just $1,655, which includes the $786 cost of a round trip from the U.S.; the median monthly rent of $676; the monthly utility costs, which stand at $136; and the mobile and internet plans, of $22 and $36, respectively.
Known for being a great city for foreigners and tourists, this Spanish gem is one of the country's longest-inhabited cities and has a rich history under its belt. Apart from sprawling beaches, seaports, vibrant nightlife, and delicious cuisine, digital nomads and remote workers who decide to make Alicante their home for the summer can also bask in the fascinating history of gothic churches and the gorgeous and well-preserved medieval structures, like the popular Castillo de Santa Barbara. And, when it comes to getting some work done in this sunny destination, workers can choose from one of the 102 coworking spaces available throughout the city, which places it fourth in this category.

As the biggest city in Spain's Galicia region, Vigo is known for its naval stations and fishing ports, which ensure that you'll get the absolute best and most delicious seafood here. If that doesn't immediately make you want to book a transatlantic flight, then perhaps the thought of beaches with white sands and a plethora of water sports will seal the deal. Vigo is also a jumping-off point for the gorgeous Islas Cíes — an ideal destination for an exciting day trip.
Apart from its natural wonders, what boosted Vigo's ranking in our ranking was its overall monthly cost of living — the second-lowest among the cities we analyzed — coming in at $1,558. This includes the round trip flight from the U.S., of $823; the monthly rent; the cost of utilities (which was the fifth-lowest on our list at $103/month); and the phone and internet subscriptions. Additionally, in terms of getting around the city, tourists also benefit from one of the lowest cab fees at only $1.80 per mile, thereby making it easy to explore the many charming sites and attractions of this beautiful destination.

An industrial city and the third-largest one in Spain, Valencia is also known as a city of arts and science, as well as the official birthplace of the famous seafood and rice dish — paella. With medieval structures, lush parks, eclectic museums, perfect beaches and more than 300 sunny days per year, it's no wonder that Valencia is so popular among tourists. And, for Americans, this destination is quite easy to reach: The average cost for a round trip flight is $766, which is the second-cheapest rate among the cities in our ranking.
At the same time, for those who choose to take a workation in Valencia for a month, the 60 coworking spaces are yet another plus, on top of the low rates on mobile and internet plans, which stand at $17 and $30, respectively. Furthermore, despite its touristy vibe, Valencia also benefits from relatively cheap cab rides at $1.80 per mile, thereby making it easy for travelers to reach some of its most sought-after beaches, like Malvarrosa Beach — home to an artificial reef — or Playa del Cabañal, which is ideal for snorkeling in safe areas and observing the marine biodiversity.
Rounding out the top five best European beach cities for Americans on a workation, Malaga is Spain's fourth representative on our list — and for good reason: this Southern gem is widely known as the home city of Pablo Picasso, so you know that the arts and culture scene here is booming. To that end, the Picasso Museum, Museo Carmen Thyssen, CAC Malaga, the Malaga Museum and the Centre Pompidou are just some of the public favorites in this area.
Moreover, apart from Malaga's several gorgeous beaches spread across the Costa del Sol — including Playa de la Malagueta in the heart of the city — one of the best things about choosing this destination for a European workation is that the flight won't set Americans back by much. In fact, Malaga is only equaled by Porto in this category, with a round trip from the U.S. starting at an average of $759 — the cheapest rate in our ranking. At the same time, moving around the city is also affordable, as Malaga earned the fourth-cheapest cab fare per mile at only $1.50. And, in more great news for remote workers on the go: the city boasts 47 coworking spaces, which is ideal for a productive day in a professional environment.

Split manages to make up for Croatia's general lack of sandy beaches through a multitude of historic sites, excellent museums and a rich culture that goes back many centuries. Known to have more day trip options, a more vibrant nightlife and slightly cheaper prices than Croatia's capital of Dubrovnik, Split stood out in our ranking due to its overall cost of living (the third-lowest), at $1,585 per month. This included the plane tickets from and to the U.S., rent, the utilities and the phone and internet plans. On the topic of monthly internet plan, Split came in fourth in this category. It was outdone only by Albania's Tirana, given that users only have to pay $25 for high-speed internet, which surely comes in handy for American digital nomads on a workation.
And, because beach destinations are our ultimate goal, don't let the lack of sandy beaches throw you back — Bačvice Beach is a local favorite. A gorgeous sandy beach in the heart of the city and near the port, it officially opened in 1919 as Split's official "bathing area." Now, you can take a quick dip into the sea for an ideal wrap to a productive workday (though with far less actual bathing now than a century ago).

The seventh entry in our ranking, Bilbao is yet another charming Spanish city that's home to some of the most impressive beaches in the country. Situated on the northern coast of the Atlantic, this port city is an ideal destination for Americans considering a workation partly due to the affordable flight cost, as well as cheap cab fares. On average, a round trip from and to the U.S. stands at $770 — placing Bilbao third in this category. Meanwhile, the cost for taxi fare was the fifth-lowest on our list at $1.60 per mile, thereby making commuting across the city a literal breeze.
Additionally, Bilbao is known for its Basque cuisine and the Guggenheim Museum, which is renowned for its stunning architecture and contemporary art displays. As for its beaches, Ereaga is Bilbao's most famous: it's an urban beach ideal for sports like soccer and volleyball. With so much to offer both tourists and locals alike, it's easy to see why this Spanish hotspot made its way into our top.

While generally not the first country to come to mind when considering a European vacation, Albania is quickly emerging among budget-conscious travelers, especially due to its short-term rental market. For example, those looking to spend at least a month in Tirana will be happy to know that the city is quite affordable in terms of rent and utilities, which will set you back only $430 and $99 per month, respectively. At the same time, the city boasts the second-lowest monthly mobile plans, at only $16, as well as the absolute cheapest internet fee among all of the cities we analyzed ($17 per month), which makes it easy for remote workers to rely on fast and secure internet to complete their tasks.
Situated on the river Ishm, Tirana has a hefty communist history under its belt that came to an end in 1992 — a fact that might prove to be quite interesting for history aficionados. Apart from famous landmarks like the government boulevard, Skanderbeg Square, the Pyramid of Tirana, or the Bunk'Art 1 bunker Museum, Tirana is also known for its exciting nightlife and its most famous beach, Durres, which stands on the Adriatic coast and is less than an hour away from the city center.
When Giuseppe Verdi said, "You may have the universe if I may have Italy", chances are he wasn't talking about a workation, but it sure could apply to that as well. Italy's timeless beauty is sure to entice not only vacationers, but also workers from around the world — as is the case in Naples, the gorgeous Mediterranean city that also happens to be the birthplace of pizza. If that alone doesn't convince you to book a flight to Naples, let us reinforce our case: remote workers and digital nomads will be glad to know that Naples came in second in terms of affordable mobile plans. What's more, the monthly rent in Naples is also on the lower end, coming in at a median of $561 and making it easy to live and work from here for a longer period of time.
With beautiful landscapes, the best Mediterranean cuisine, countless historic sites, churches, catacombs, and glimmers of arts and culture at every corner, Naples has all it takes for an unforgettable experience. Furthermore, the beaches here stretch across miles of white sand and the clear waters allow for many types of water sports.

While Naples invented pizza, Genoa is the birthplace of another iconic figure who changed the world (dare we say, maybe even more than the thin crust?) — Christopher Columbus. This charming city is also known for its unique blend of several architectural styles, from Medieval to Renaissance and Baroque and Gothic, which make sightseeing a stunning visual experience. Historically known for being one of the most important ports in the Mediterranean, Genoa now has some of the most aesthetic beaches with colorful Italian houses peppered across the coast.
Additionally, the city's highly affordable cab rides — the sixth-lowest prices on our list ($1.80 per mile) — make it easy to move around and even reach the famous beaches in Linguria. Our analysis also determined that Genoa has the second-most affordable mobile monthly plan at $16, as well as one of the lowest median monthly rents at a little more than $600.
Flights to Porto & Malaga Are the Cheapest, Most Affordable Rent Is in Zakynthos & Barcelona Checks the Highest Number of Coworking Spaces
While the leading European cities for Americans on a workation were determined by an aggregated score defined by seven separate categories, certain cities stood out from the crowd in their particular best-performing metrics. Here are the cities that outperformed all others in specific categories: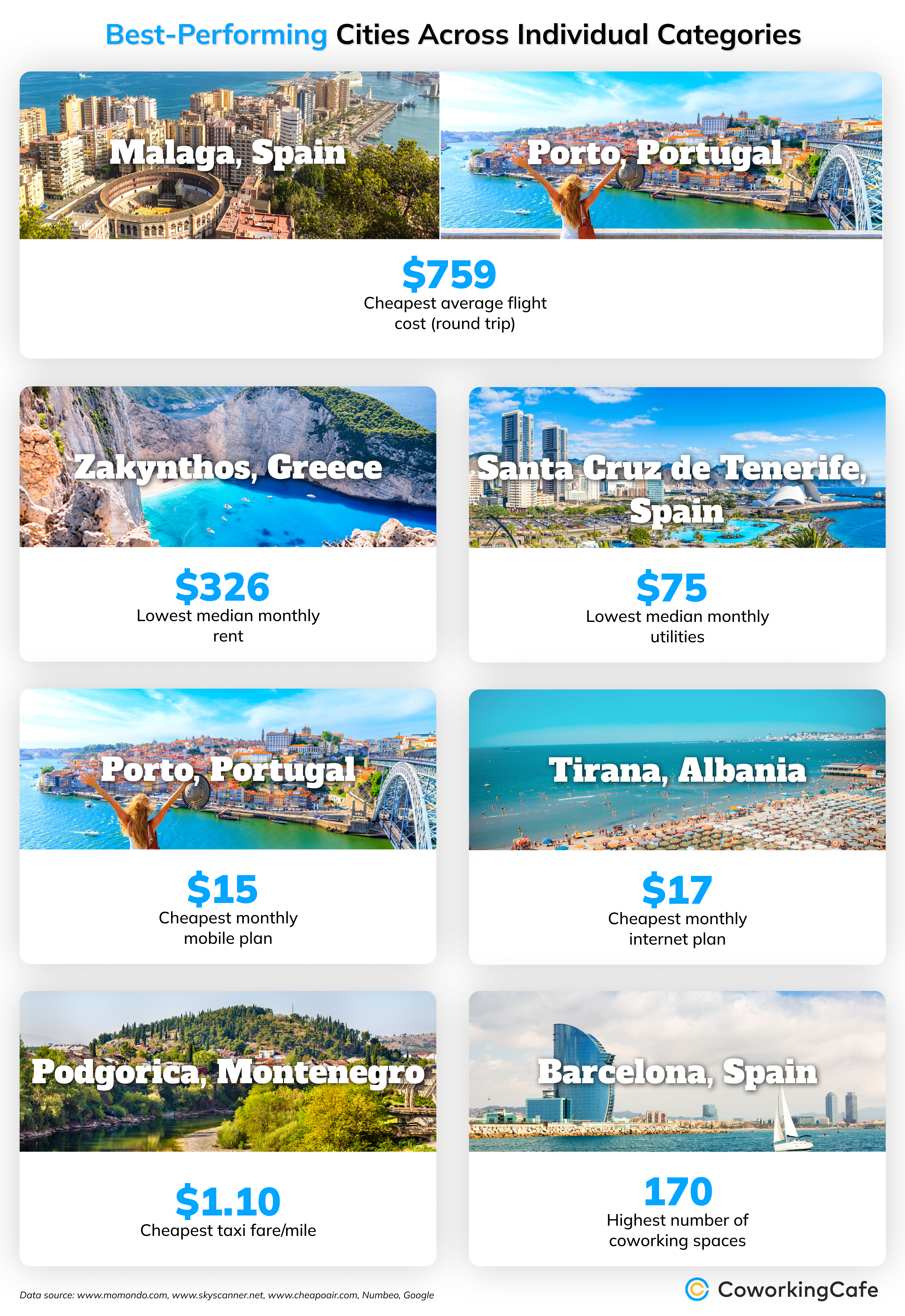 Methodology
For the purpose of this study, we analyzed 52 European coastal cities, regardless of population, as long as they check at least one airport. Cities with no coworking spaces were excluded.
The cities analyzed were ranked based on their total scores, with higher scores indicating better overall conditions for remote workers. Metrics were then assigned a weight based on their importance in determining the overall attractiveness of a city. The base categories, underlying metrics and their weights in the final score were as follows:
Fair Use & Redistribution
We encourage you and freely grant you permission to reuse, host, or repost the images in this article. When doing so, we only ask that you kindly attribute the authors by linking to CoworkingCafe.com or this page, so that your readers can learn more about this project, the research behind it and its methodology.