Amenities
Caffeine zone
Complimentary coffee & tea
Available Workspaces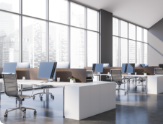 Hours of Operation
Monthly memberships allow 24/7 access to our space.
For meeting rooms and day passes, please see our hours of operation.
Walk & Ride
84/100

Very Walkable

55/100

Good Transit

88/100

Very Bikeable
The area surrounding 6513 Woodward Avenue is very walkable. In fact, you can complete most tasks on foot, thanks to the abundance of services and amenities here. Transit-wise, you can take advantage of various options for public transportation in the area. 6513 Woodward Avenue is located in a highly bikeable area that provides a complex cycling infrastructure for your convenience.
read more
read less
Calculate Your Commute
Calculate commute by driving, cycling or walking, where available.
Commute calculator powered by Walk Score® Travel Time
Local Highlights
Baltimore Street

0.06 miles

Grand Boulevard

0.09 miles

Detroit

0.12 miles

Amsterdam Street

0.25 miles

Ferry Street

0.64 miles

Warren Avenue

0.90 miles

Canfield Street

1.30 miles

Mack Avenue

1.72 miles

Martin Luther King Junior Boulevard

1.73 miles

Checker Cab #977

1.84 miles
Hotel St. Regis

0.10 miles

The Inn on Ferry Street

0.67 miles

Pinkinn Motel

1.32 miles

El Moore

1.47 miles

Rio Grand Motel

1.69 miles

King's Arms Hotel

1.74 miles

Veteran's Park Hotel

1.75 miles

Town Motel

1.84 miles

Viking Motel

2.16 miles

The Inn at 97 Winder

2.21 miles
College for Creative Studies Taubman Campus

0.13 miles

God's Way Academy

0.21 miles

University Preparatory Academy Elementary School – Mark Murray Campus

0.26 miles

Y Gladys Barsamian Preparatory Center

0.28 miles

New Center Child Care Academy

0.41 miles

University Preparatory Academy High School

0.48 miles

University Preparatory Academy Elementary School – Ellen Thompson Campus

0.58 miles

Detroit International Academy for Young Women

0.62 miles

Palmer Institute

0.64 miles

College for Creative Studies

0.73 miles
Supino Pizza

0.01 miles

The Kitchen

0.02 miles

Yum Village

0.04 miles

Baobab Fare

0.06 miles

White Castle

0.11 miles

Z's Villa

0.27 miles

Cuisine

0.28 miles

Bucharest Grill

0.28 miles

Subway

0.36 miles

Parks Old Style Bar-B-Q

0.40 miles
King Cole Foods

1.04 miles

Food Pride Super Market

1.06 miles

University Foods

1.15 miles

Family Foods Superstore

1.28 miles

Whole Foods Market

1.67 miles

Save-A-Lot

1.72 miles

Dollar General

2.22 miles

Fruit Market

2.27 miles

Al-Haramain International Foods

2.36 miles

Gratiot Central Market

2.46 miles
Cass Avenue Garage

0.05 miles

CCS Woodward Lot

0.05 miles

CCS Parking Structure

0.14 miles

MDOT Lot

0.19 miles

WSU Lot 14

0.20 miles

New Center Garage

0.20 miles

Lot 12

0.22 miles

Fisher Building Garage

0.23 miles

Baltimore Garage

0.26 miles

John R Lot

0.26 miles
Enterprise

0.27 miles

Celebrity Car Wash

0.77 miles

Downtown Car Wash

2.69 miles

Mr. Spotless

3.36 miles

Mel's Car Wash

3.50 miles

Soaps Car Wash

3.64 miles

Enterprise

3.70 miles

Mr. Pops Detail Shop

3.72 miles

Source Auto Wash & Detailing

3.96 miles

Airport Car Wash

4.27 miles
Frequently Asked Questions
Can I book a coworking space by the hour? How about for a day/month?

Coworking spaces in Detroit offer highly flexible options when it comes to different work arrangements, however, not all operators offer hourly and daily bookings. These are generally reserved for meeting rooms and event spaces and are generally less applicable to common work arrangements, like an open workspace or a dedicated desk. However, hot desks are available in some locations and certain operators enable day passes or a trial period, for users who want to test the waters before committing to a space.

What should a good coworking space in Detroit provide?

The best way that coworking spaces support a hassle-free workday is through their most crucial amenities. These range from fast and reliable Wi-Fi to comfortable, ergonomic furniture and a variety of workspaces for different types of professionals. Many coworking operators also include beverages and snacks in their memberships to help workers stay energized throughout the day. Or, if you're looking to connect and network with your own team or other entrepreneurs coming from different backgrounds, focus your search on a coworking space that has a close-knit community. These are often easy to spot because they're nurtured by regular events that bring members together and help them establish professional and personal connections.

Can I visit or tour the coworking space before making a decision?

Coworking spaces frequently let you visit the facility before committing to any kind of membership. Some even offer virtual tours that you can view from the comfort of your home. These tours allow you to see the space's layout and the many working arrangements, as well as the design as a whole. By doing so, you can determine whether the space meets your demands in order to make a wise choice.

What types of coworking spaces are available?

Most coworking spaces in Detroit offer a variety of working configurations that accommodate both individual employees and larger teams. So, whether you need a desk in an open area for occasional use or a dedicated one to work from on a more regular basis, there are several options available. Additionally, teams of different sizes can get more privacy in private offices, while meeting rooms are ideal for hosting presentations or meeting with clients.

How many coworking spaces are in Detroit?

There are 19 coworking spaces available right now in Detroit. However, if you broaden your search region to better match the location of your home or explore a certain area of interest, you'll likely find additional options as some coworking spaces are also available outside of the major commercial areas in the suburbs.
Room Project
Room Project
Why Choose Room Project
Located at 6513 Woodward Avenue in Detroit, Room Project is a space for women, non-binary and trans writers and artists to work individually and collaboratively. We are unique in that we ask our members to engage with each other around their artistic practices as a point of membership.