Available Workspaces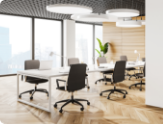 Hours of Operation
Monthly memberships allow 24/7 access to our space.
For meeting rooms and day passes, please see our hours of operation.
Walk & Ride
49/100

Car-Dependent

34/100

Some Transit

43/100

Somewhat Bikeable
Working in the area near 4400 West Sample Road will likely require a car, as most services and amenities are located further away. Regarding transit, only a few options are currently available for public transportation. 4400 West Sample Road's bikeable score is relatively low and has minimal infrastructure dedicated to cycling.
read more
read less
Calculate Your Commute
Calculate commute by driving, cycling or walking, where available.
Commute calculator powered by Walk Score® Travel Time
Local Highlights
Pompano Beach

3.06 miles

Deerfield Beach

4.91 miles

Cypress Creek

5.38 miles

Boca Raton

9.80 miles
Residence Inn by Marriott Fort Lauderdale Coconut Creek

2.24 miles

Travelodge by Wyndham Pompano Beach

2.34 miles

Residence Inn by Marriott Fort Lauderdale Pompano Beach Central

3.32 miles

Wyndham Palm-Aire

3.58 miles

La Quinta Inn & Suites by Wyndham Coral Springs Univ Dr

4.07 miles

Best Western

4.42 miles

Studio 6 Coral Springs, FL - Fort Lauderdale

4.43 miles

Quality Suites Deerfield Beach

4.43 miles

The Forum

4.47 miles

Extended Stay America - Fort Lauderdale - Deerfield Beach

4.52 miles
Monarch High School

0.95 miles

Liberty Elementary School

1.13 miles

Alphabet Land-Margate Elementary School

1.16 miles

Garrett Academy

1.18 miles

Paideia Classical Academy

1.20 miles

Charter School

1.43 miles

Winston Park Elementary School

1.58 miles

Abundant Life Christian Academy

1.77 miles

Coconut Creek High School

1.82 miles

Forest Glen Middle School

2.04 miles
McDonald's

0.09 miles

La Bamba Mexican & Spanish Restaurant

0.86 miles

JOJI Yogurt & Dessert Bar

0.86 miles

Dunkin'

0.99 miles

Burger King

1.14 miles

Chipotle

1.35 miles

Panera Bread

1.39 miles

Falafel Gourmet

1.41 miles

Taco Bell

1.42 miles

Your Pie

1.43 miles
Promenade at Coconut Creek

0.84 miles

Winn-Dixie

0.99 miles

Walmart Supercenter

1.25 miles

ALDI

1.28 miles

Burlington

1.45 miles

Ross

1.49 miles

Super Target

1.51 miles

Publix

1.59 miles

Publix

1.72 miles

Publix

1.86 miles
Ambulance Parking

1.76 miles

Semi Parking

3.15 miles

South Parking Lot

5.60 miles

DRV PNK Stadium Parking Lots

5.63 miles

North Parking Lot

5.66 miles

Sports Field Parking

6.13 miles

Walmart Parking

6.20 miles

Pinetrails Park Parkinglot

6.20 miles

USCIS Parking Garage

6.29 miles

YMCA PArking Lot

6.33 miles
Enterprise

2.19 miles

Aqua Car Wash

3.24 miles

Stars & Stripes Car Wash

5.21 miles

Enterprise

6.05 miles

Wash n' Run

7.01 miles

BP

9.60 miles

Enterprise

9.63 miles

Hertz

9.86 miles

SIXT

9.88 miles
Frequently Asked Questions
How many coworking spaces are in Coconut Creek?

There are 2 coworking spaces available right now in Coconut Creek. However, if you broaden your search region to better match the location of your home or explore a certain area of interest, you'll likely find additional options as some coworking spaces are also available outside of the major commercial areas in the suburbs.

Are there any pet-friendly coworking spaces in Coconut Creek?

There are coworking spaces in Coconut Creek that accept pets so you can bring your four-legged companion and keep them nearby while you work. When looking at the available options, narrow your search to ensure that you pick a pet-friendly location by selecting the "pet-friendly" filter. If you're still unsure, reach out to the operator and ask them about this policy.

What types of coworking spaces are available?

Most coworking spaces in Coconut Creek offer a variety of working configurations that accommodate both individual employees and larger teams. So, whether you need a desk in an open area for occasional use or a dedicated one to work from on a more regular basis, there are several options available. Additionally, teams of different sizes can get more privacy in private offices, while meeting rooms are ideal for hosting presentations or meeting with clients.

Can I visit or tour the coworking space before making a decision?

Coworking spaces frequently let you visit the facility before committing to any kind of membership. Some even offer virtual tours that you can view from the comfort of your home. These tours allow you to see the space's layout and the many working arrangements, as well as the design as a whole. By doing so, you can determine whether the space meets your demands in order to make a wise choice.

Can I book a coworking space by the hour? How about for a day/month?

In Coconut Creek, the majority of coworking spaces do provide flexible booking alternatives. However, keep in mind that, although monthly rates are widely available, not all operators provide daily bookings. Hourly reservations are generally used for meeting spaces and are less common when it comes to access to the general workspace.
Khospace
Khospace
(833) 546-7666
Why Choose Khospace
Khospace is where private practice meets coworking. Grow and scale your private practice and join our community of Psychology & Wellness professionals.