If you've always wanted to work within the hustle and bustle of the U.S. capital, here's your chance to set up shop at one of the most prestigious addresses in Washington, D.C. Located at 910 17th St. NW, this LocalWorks coworking space lies merely a few steps away from such iconic landmarks as Lafayette Square, The White House, the Renwick Gallery of the Smithsonian Art Museum, Farragut Square and more. Accordingly, an abundance of top-of-the-line eateries, fancy hotels, shops, cafes and more can also be found in the vicinity.
Plus, getting to the coworking space will prove to be easy and effortless, regardless of whether you opt to bike, drive or arrive via public transit. That's because the space lies in a highly bikeable area boasting a complex cycling infrastructure for your convenience. Or, if you come by car, you can use U.S. Route 29 and park in one of the available parking garages or spots for a discounted fee. Alternatively, if you wish to arrive via public transport, then you'll be happy to find that there are several bus and metro stops just a few steps away from the building.
As far as on-site amenities go, LocalWorks provides spacious, fully furnished private offices to its members. Notably, these come with all-inclusive, no-lease, monthly terms that can be renewed every month on demand, and Wi-Fi, ethernet, HVAC, electric and kitchen services are all included, as well. As such, the budget-friendly solutions provided by LocalWorks are ideal for businesses looking for private, dedicated workspaces that come with all of the necessary amenities in a prestigious Washington, D.C. location. Members can also rent conference rooms that come fully equipped and provide a fantastic solution to those who wish to impress their business associates or clients with not only their presentation or proposal, but also their place of work.
Amenities
Caffeine zone
Complimentary coffee & tea
Available Workspaces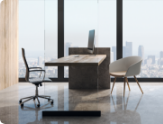 Hours of Operation
Monthly memberships allow 24/7 access to our space.
For meeting rooms and day passes, please see our hours of operation.
Walk & Ride
100/100

Walker's Paradise

100/100

Rider's Paradise

85/100

Very Bikeable
The area near 910 17th Street Northwest is ideal for walkers. A car is not required to run errands because everything is nearby. In terms of transit, you can benefit from first-class public transportation options. 910 17th Street Northwest is located in a highly bikeable area that provides a complex cycling infrastructure for your convenience.
read more
read less
Calculate Your Commute
Calculate commute by driving, cycling or walking, where available.
Commute calculator powered by Walk Score® Travel Time
Frequently Asked Questions
How many coworking spaces are in Washington?

There are 81 coworking spaces available right now in Washington. However, if you broaden your search region to better match the location of your home or explore a certain area of interest, you'll likely find additional options as some coworking spaces are also available outside of the major commercial areas in the suburbs.

Are there any pet-friendly coworking spaces in Washington?

There are coworking spaces in Washington that accept pets so you can bring your four-legged companion and keep them nearby while you work. When looking at the available options, narrow your search to ensure that you pick a pet-friendly location by selecting the "pet-friendly" filter. If you're still unsure, reach out to the operator and ask them about this policy.

Can I visit or tour the coworking space before making a decision?

Coworking spaces frequently let you visit the facility before committing to any kind of membership. Some even offer virtual tours that you can view from the comfort of your home. These tours allow you to see the space's layout and the many working arrangements, as well as the design as a whole. By doing so, you can determine whether the space meets your demands in order to make a wise choice.

Can I book a coworking space by the hour? How about for a day/month?

In Washington, the majority of coworking spaces do provide flexible booking alternatives. However, keep in mind that, although monthly rates are widely available, not all operators provide daily bookings. Hourly reservations are generally used for meeting spaces and are less common when it comes to access to the general workspace.

What should a good coworking space in Washington provide?

The best way that coworking spaces support a hassle-free workday is through their most crucial amenities. These range from fast and reliable Wi-Fi to comfortable, ergonomic furniture and a variety of workspaces for different types of professionals. Many coworking operators also include beverages and snacks in their memberships to help workers stay energized throughout the day. Or, if you're looking to connect and network with your own team or other entrepreneurs coming from different backgrounds, focus your search on a coworking space that has a close-knit community. These are often easy to spot because they're nurtured by regular events that bring members together and help them establish professional and personal connections.
LocalWorks
Barry Greenfield
(844) 444-7795
Why Choose LocalWorks
In more than 40 locations in 8 states, LocalWorks provides no lease, inexpensive work solutions for individuals and businesses seeking private, dedicated office space.