Amenities
Caffeine zone
Complimentary coffee & tea
Classic
High-speed internet
Facilities
Kitchen
Privacy booths
Available Workspaces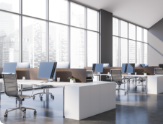 Hours of Operation
Monthly memberships allow 24/7 access to our space.
For meeting rooms and day passes, please see our hours of operation.
Walk & Ride
74/100

Very Walkable

56/100

Good Transit

83/100

Very Bikeable
The area surrounding 305 South Main Street is very walkable. In fact, you can complete most tasks on foot, thanks to the abundance of services and amenities here. Transit-wise, you can take advantage of various options for public transportation in the area. 305 South Main Street is located in a highly bikeable area that provides a complex cycling infrastructure for your convenience.
read more
read less
Calculate Your Commute
Calculate commute by driving, cycling or walking, where available.
Commute calculator powered by Walk Score® Travel Time
Local Highlights
Fort Worth T&P

0.30 miles

Fort Worth Central

0.78 miles

Grapevine Vintage Railroad Tickets

3.44 miles

North Side

3.85 miles

Mercantile Center

5.73 miles

Richland Hills

7.19 miles

North Richland Hills/Iron Horse

8.41 miles
Sheraton Fort Worth Downtown Hotel

0.43 miles

Omni Fort Worth Hotel

0.50 miles

Fairfield Inn & Suites

0.67 miles

Hilton Fort Worth

0.80 miles

Holiday Inn Express & Suites Fort Worth Downtown

0.83 miles

Kimpton Harper Hotel

0.83 miles

The Ashton Hotel

0.87 miles

Courtyard Fort Worth Downtown/Blackstone

0.89 miles

Embassy Suites by Hilton Fort Worth Downtown

0.90 miles

AC Hotel by Marriott Fort Worth Downtown

0.90 miles
Tarrant County College

0.42 miles

Van Zandt-Guinn Elementary School

0.45 miles

Texas A&M University School of Law

0.49 miles

Saint Ignatius School

0.55 miles

Fort Worth Center - University of Texas at Arlington

0.60 miles

Gay Street School

0.66 miles

Trimble Technical High School

0.75 miles

I M Terrell Elementary School

0.80 miles

Young Women's Leadership Academy

0.84 miles

World Languages Institute

0.95 miles
Coco Shrimp Restaurant

0.03 miles

Noy Donuts

0.60 miles

Jack in the Box

0.62 miles

Al Dente Italian Trattoria

0.73 miles

J's Burgers N' More

0.74 miles

Bailey's Bar-B-Q

0.74 miles

Mama E's BBQ

0.74 miles

Subway

0.76 miles

Del Frisco's Double Eagle Steakhouse

0.78 miles

Ruth's Chris Steak House

0.80 miles
Tom Thumb

1.67 miles

Target

1.92 miles

Walmart Neighborhood Market

2.58 miles

Supermercado Monterrey

2.68 miles

Walmart Supercenter

3.00 miles

Walmart Supercenter

3.23 miles

Kroger

3.29 miles

El Rancho Supermercado

3.41 miles

Terry's Supermarket

3.53 miles

Vietnam Plaza Super Market

3.71 miles
T & P Station

0.20 miles

Federal Parking Garage

0.62 miles

Fort Worth Cental Station - Park and Ride

0.66 miles

Sundance Square Garage 4

0.83 miles

Garage Entrance

0.88 miles

Garage Entrance

0.89 miles

7th Avenue Garage

0.95 miles

Klabzuba Tower

0.96 miles

Sanger Lofts

0.98 miles

Terrell Avenue Garage

0.99 miles
Enterprise

0.79 miles

Enterprise

4.53 miles

Zips Car Wash

6.04 miles

Enterprise

6.16 miles

USA Laserwash

6.30 miles

Cityview Car Wash & Lube Center

6.62 miles

Valero

7.16 miles

Cowtown Car Wash

7.58 miles

BriteZone Carwash

7.67 miles

Katie's Car Wash

7.80 miles
Frequently Asked Questions
Can I visit or tour the coworking space before making a decision?

In some cases, coworking operators will provide you with a free tour of the space before you can make your decision. By doing so, you can assess the space's floorplan, the different work areas, the overall amenities, and the quality of the site to see if they match your needs and overall vision. At the same time, some operators have virtual tours that you can take from the comfort of your own home — without having to make an extra trip.

What types of coworking spaces are available?

In Fort Worth, there are various coworking spaces that enable different working arrangements — whether that's a desk in an open workspace, which is ideal for collaboration, a dedicated desk that will be assigned only to you, or a private office that enables more privacy for both individual workers and teams. Most coworking spaces also have meeting or conference rooms where you can host client meetings, brainstorming sessions or presentations. These are often bookable by the hour.

Are there any pet-friendly coworking spaces in Fort Worth?

In some coworking spaces, pets are more than welcome as they bring an extra dose of joy to the members of the community. If your furry friend needs to accompany you during your workday, make sure to filter your search and choose from the pet-friendly coworking spaces available in Fort Worth. However, if you're not sure about a location's policy, you can always reach out directly to the operator to inquire about that.

What should a good coworking space in Fort Worth provide?

A good coworking space should offer all of the essential amenities required to work efficiently and comfortably — like a quick and reliable internet connection, ergonomic furniture, tech equipment and various work or relaxation areas — but also some extra perks, such as printing, copying, and scanning services or complimentary snacks and beverages. Plus, coworking spaces offer various work settings, such as open desk areas and private offices to accommodate workers' diverse needs. Last, but not least, a solid coworking space community is one of its best qualities. To that end, coworking business owners often cultivate and support a sense of community by organizing networking events to help members connect and socialize.

Do I need a membership to work at a coworking space in Fort Worth?

Generally, coworking spaces are all about flexibility and that applies to memberships as well. This means that certain memberships are available, especially for users who need a workspace for a longer period of time, however, day passes or hourly subscriptions are also provided by coworking operators in Fort Worth. Members who choose a monthly membership, for instance, are prone to getting more bang for their buck, as these types of memberships are more cost-effective than the short-term usage of coworking spaces and they come with extra benefits, amenities and access to events included. Memberships ensure a complete coworking experience that goes beyond a simple desk area and those who opt for one can be part of a community of professionals from different backgrounds, who get together to enhance their respective businesses, as well as to network and socialize.
Backlot Studio & Workspaces
Backlot Studio & Workspace
(817) 754-1758
Why Choose Backlot Studio & Workspaces
This workspace is a place for creatives to meet, work, play and collaborate. Located just off South Main St. Fort Worth, the space is bright, open and flexible. It provides introverts a quiet space to think, and extroverts a loud space to discuss how weird introverts are.