Located in the magnificent and conveniently located Kingdom Plaza Mall, home of the famous, top-rated Soul Food Bistro, Highmark Office Solutions is positioned to serve you and your clients with a mindset of both abundance and excellence. Our Kingdom Plaza location also boasts a whole host of amenities that are a nice compliment to our coworking space, such as Lang's Little Lambs Preschool; Temple Builders fitness; The Slick Hair Experience; wholistic medical, naturopathic, and veteran's medical service providers; T. Ellison's Fashion House; Wealth Watchers (financial fitness) as well as The Potter's House Community Development Empowering Center that provides valuable services and training in personal finance, entrepreneurship, and adult education. So stop by Highmark Office Solutions in Suite 22 TO learn how our inspiring space and community is good and fertile ground in which to grow your business!
Amenities
Caffeine zone
Complimentary coffee & tea
Equipment
Printer
TV/Monitor
White boards
Facilities
Bike storage
Parking
Receptionist/Secretarial services
Food & Bev
Catering
Free water
Snacks
Available Workspaces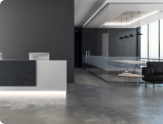 Walk & Ride
70/100

Somewhat Walkable

36/100

Some Transit

63/100

Bikeable
The area surrounding 5130 Lenox Avenue is very walkable. In fact, you can complete most tasks on foot, thanks to the abundance of services and amenities here. Regarding transit, only a few options are currently available for public transportation. There is some cycling infrastructure in the area near 5130 Lenox Avenue and it's a relatively bikeable community.
read more
read less
Location
Address:

5130 Lenox Avenue

Neighborhood:

Normandy

City:

Jacksonville, FL

Zip Code:

32205
Calculate Your Commute
Calculate commute by driving, cycling or walking, where available.
Commute calculator powered by Walk Score® Travel Time
Local Highlights
Jacksonville

3.57 miles

Jacksonville Regional Transportation Center

3.73 miles

Jefferson

3.98 miles

Central

4.27 miles

San Marco

4.27 miles

James Weldon Johnson Park

4.45 miles

Riverplace

4.52 miles

Rosa Parks

4.58 miles

Kings Avenue

4.72 miles

Train Station

7.90 miles
Diamond Inn

1.06 miles

Sleep Inn & Suites

1.24 miles

Stars Rest Inn

1.26 miles

Knights Inn Jacksonville

1.29 miles

Budget Inn

1.30 miles

Holiday Inn Express & Suites Jacksonville W - I295 And I10

2.28 miles

Comfort Suites West Jacksonville

2.36 miles

Country Inn & Suites by Radisson, Jacksonville West, FL

2.37 miles

Riverdale Inn

3.23 miles

Residence Inn Jacksonville Downtown

3.45 miles
Ramona Boulevard School

0.62 miles

Wayman Academy of the Arts

0.71 miles

Murray Hill Baptist Church Kindergarten

0.78 miles

Upson School

0.88 miles

Pinedale Elementary School

0.92 miles

Potter's House Christian Academy

1.02 miles

Jacksonville Theological Baptist Seminary

1.14 miles

Florida State College at Jacksonville - Kent Campus

1.27 miles

Reynolds Lane School

1.34 miles

Potters House Christian Academy High School

1.43 miles
Krispy Kreme

0.10 miles

Dunkin'

0.12 miles

Mr Snappers

0.32 miles

Wendy's

0.39 miles

Smokey's BBQ

0.41 miles

Subway

0.52 miles

Gina's Deli

0.70 miles

Famous Sandwiches

0.78 miles

Edgewood Diner

0.83 miles

El Jefe

0.84 miles
Marshalls

0.26 miles

Winn-Dixie

0.33 miles

Cambodian Oriental Store

1.02 miles

Walmart Supercenter

1.79 miles

Aldi

2.09 miles

Save A Lot Food Stores

2.23 miles

Publix

2.53 miles

Publix Super Market at Normandy Crossing

2.85 miles

Publix

3.01 miles

Grassroots Natural Market

3.02 miles
Employees Parking Lot

1.31 miles

Walmart Supercenter's parking lot

1.87 miles

Gerald Anthony Giurato' parking lot

2.05 miles

Central Riverside Visitor Parking

2.42 miles

Cummer Museum Parking

3.27 miles

Fidelity National Financial Parking

3.35 miles

Florida Blue Parking Garage

3.36 miles

JTA Stuart Lot

3.77 miles

JTA Houston Lot

3.80 miles

Garage 1

4.04 miles
Hertz

0.72 miles

Twice the Ice

1.32 miles

Enterprise

1.35 miles

Enterprise

1.81 miles

Enterprise

7.71 miles

Gate Car Wash

7.75 miles

Johny's clean car wash

9.57 miles

Power Wash

9.92 miles

Speedway car wash

9.99 miles
Frequently Asked Questions
Do I need a membership to work at a coworking space in Jacksonville?

Generally, a coworking membership can be cost-effective for those who primarily work at a desk. However, if you only need occasional and short-term access to a coworking space, consider day passes or hourly subscriptions available at several coworking spaces in Jacksonville.?Memberships are normally best-suited for long-term users as they are more affordable than hourly or daily subscriptions and they cater to varying needs. Additionally, many coworking spaces offer added benefits such as networking events, access to gyms, and other amenities, enhancing the overall coworking experience and fostering a vibrant and supportive community.

How many coworking spaces are in Jacksonville?

Currently, there are 29 coworking spaces up for grabs in Jacksonville. However, you can always expand your area of search based on your location or according to convenience. In some cases, you can even find coworking spaces in the suburbs or outside of the main business district.

What types of coworking spaces are available?

The majority of coworking spaces in Jacksonville provide different types of working arrangements to suit both individual workers and teams. For instance, if you only need a space for a few days a month, you can opt for a desk in an open workspace or you can choose a dedicated desk if you plan to use it more regularly. Meanwhile, private offices are ideal for smaller teams that require more privacy, while meeting rooms are available in most locations and are equipped to host presentations, brainstorming sessions or client meetings.

Are there any pet-friendly coworking spaces in Jacksonville?

Some coworking spaces have a pet-friendly policy, allowing you to bring your furry friend and keep them close during your workday. To make sure that you see all of the pet-friendly spaces, filter your search by selecting the "pet-friendly" filter when browsing options in Jacksonville. Or, if you're not completely sure, reach out to the operator to inquire about this policy.

Can I book a coworking space by the hour? How about for a day/month?

Yes, most coworking spaces in Jacksonville offer flexible booking options. However, while monthly rates are commonly available, not all operators offer daily bookings. Hourly rates are typically reserved for meeting rooms and are less commonly used for general workspace access.
Highmark Office Solutions
Admin
(904) 930-1010
Why Choose Highmark Office Solutions
Highmark Office Solutions is a dynamic coworking virtual office space that provides access to a thriving community of like-minded professionals so that you can grow your business and brand.