Our Corona community is filled with creatives, remote workers, small businesses, freelancers, and startups.
read more
read less
Amenities
Caffeine zone
Complimentary coffee & tea
Facilities
Receptionist/Secretarial services
Food & Bev
Free water
Refreshments
Available Workspaces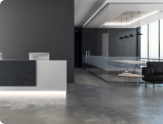 Walk & Ride
82/100

Very Walkable

45/100

Some Transit

97/100

Biker's Paradise
The area surrounding 383 Corona Street is very walkable. In fact, you can complete most tasks on foot, thanks to the abundance of services and amenities here. Regarding transit, only a few options are currently available for public transportation. A complex cycling infrastructure awaits you in the area surrounding 383 Corona Street, making it a true biker's paradise.
read more
read less
Location
Address:

383 Corona Street

Neighborhood:

Downtown Denver

City:

Denver, CO

Zip Code:

80218
Calculate Your Commute
Calculate commute by driving, cycling or walking, where available.
Commute calculator powered by Walk Score® Travel Time
Local Highlights
Alameda

1.35 miles

I-25 & Broadway

1.62 miles

10th & Osage

1.80 miles

16th & California

1.86 miles

18th & California

1.91 miles

Theatre District / Convention Center

1.92 miles

20th & Welton

1.92 miles

16th & Stout

1.95 miles

Colfax at Auraria

1.95 miles

18th & Stout

2.00 miles
Ember Hostel

0.77 miles

TownePlace Suites by Marriott Denver Downtown

0.82 miles

Moxy Denver Cherry Creek

0.89 miles

Halcyon

0.91 miles

Hotel Clio, a Luxury Collection Hotel, Denver Cherry Creek

1.03 miles

11th Avenue Hotel and Hostel

1.09 miles

The Metlo

1.11 miles

the Art Hotel

1.20 miles

Jacquard Hotel & Rooftop

1.21 miles

Ramada Denver Downtown

1.23 miles
Denver School of Photography

0.29 miles

Art Students League of Denver

0.51 miles

Dora Moore School

0.55 miles

DSST Byers Middle and High School

0.63 miles

Steele Elementary School

0.81 miles

Saint Francis de Sales Catholic School

0.89 miles

Bromwell Elementary School

0.93 miles

Good Shepherd Catholic School

1.00 miles

Saint John Catholic School

1.01 miles

DCIS at Fairmont

1.06 miles
Cafe Byblos

0.04 miles

Table 6

0.28 miles

Pho on 6th

0.30 miles

Uno Mas Taqueria

0.32 miles

Fruition

0.32 miles

Brothers BBQ

0.32 miles

Waffle Brothers

0.35 miles

Fontana Sushi

0.35 miles

Angelo's Taverna

0.36 miles

Odyssey Italian Restaurant

0.39 miles
Safeway

0.23 miles

Trader Joe's

0.57 miles

King Soopers

0.65 miles

Complete Nutrition Vitamin & Supplements

0.77 miles

Ideal Market

0.80 miles

Whole Foods Market

0.91 miles

Nordstrom

1.06 miles

Natural Grocers

1.08 miles

Safeway

1.09 miles

RH Denver - The Gallery at Cherry Creek

1.15 miles
LionGate Guest Parking

0.28 miles

Ambassador East

0.35 miles

CAR2GO

0.45 miles

Future Residents

0.45 miles

Norman Residents 20 Min

0.47 miles

Vendors

0.47 miles

Paragon (Permit Only)

0.48 miles

Private

0.49 miles

Brittany House (Permit Only)

0.52 miles

Ogden St S

0.52 miles
Car Toys

0.71 miles

Enterprise

0.72 miles

HI Performance Car Wash

1.11 miles

Dino Car Wash

1.31 miles

Car Wash Express

1.34 miles

Avis

1.83 miles

Budget

1.94 miles

Hertz

1.96 miles

Circle K

1.96 miles

Waterway Carwash

1.99 miles
Frequently Asked Questions
How many coworking spaces are in Denver?

There are 72 coworking spaces available right now in Denver. However, if you broaden your search region to better match the location of your home or explore a certain area of interest, you'll likely find additional options as some coworking spaces are also available outside of the major commercial areas in the suburbs.

What should a good coworking space in Denver provide?

The best way that coworking spaces support a hassle-free workday is through their most crucial amenities. These range from fast and reliable Wi-Fi to comfortable, ergonomic furniture and a variety of workspaces for different types of professionals. Many coworking operators also include beverages and snacks in their memberships to help workers stay energized throughout the day. Or, if you're looking to connect and network with your own team or other entrepreneurs coming from different backgrounds, focus your search on a coworking space that has a close-knit community. These are often easy to spot because they're nurtured by regular events that bring members together and help them establish professional and personal connections.

What types of coworking spaces are available?

Most coworking spaces in Denver offer a variety of working configurations that accommodate both individual employees and larger teams. So, whether you need a desk in an open area for occasional use or a dedicated one to work from on a more regular basis, there are several options available. Additionally, teams of different sizes can get more privacy in private offices, while meeting rooms are ideal for hosting presentations or meeting with clients.

Can I book a coworking space by the hour? How about for a day/month?

Yes, most coworking spaces in Denver offer flexible booking options. However, while monthly rates are commonly available, not all operators offer daily bookings. Hourly rates are typically reserved for meeting rooms and are less commonly used for general workspace access.

Can I visit or tour the coworking space before making a decision?

Coworking spaces frequently let you visit the facility before committing to any kind of membership. Some even offer virtual tours that you can view from the comfort of your home. These tours allow you to see the space's layout and the many working arrangements, as well as the design as a whole. By doing so, you can determine whether the space meets your demands in order to make a wise choice.
Why Choose Shift Workspaces
At Shift we believe that "better" is a worthwhile destination, and we aim to join and lead the journey to get there. We offer private offices, coworking space, virtual offices, meeting rooms and event space that encourages collaboration, foster relationships, and support you on your journey to work better. We invite you to journey with us—let us support you as we all strive for better.