CAMP @ The Ranch at 12240 Venice Blvd. is a cozy and welcoming coworking space. Given its location in a charming and quiet part of the Mar Vista neighborhood, you'll find that everything is easily reachable by foot, including shops, restaurants, parks and various accommodation sites. Additionally, the Santa Monica Airport is just a four-minute car ride away, while Venice Beach and the iconic Santa Monica Pier can both be reached in less than 15 minutes by car. The area surrounding 12240 Venice Blvd. is also a true biker's paradise, boasting an extensive cycling network that connects it to various important parts of the city.
CAMP @ The Ranch provides 800 square feet of beautiful and inviting shared office spaces. In fact, it gives off coffee shop vibes, but with a more productivity-inducing twist. Monthly passes cost $300 and secure free, high-speed, TWC business class Wi-Fi, complimentary coffee and filtered water, mail and package handling, printer, scanner and copier use, along with a small storage space. The office is open weekdays between 9 a.m. and 6 p.m.
The coworking space mostly operates with monthly membership packages, but if any spots are available, they also accept drop-ins, so feel free to contact them via email. The team behind Camp @ The Rock is also open to renting out the entire space for special events, which requires reaching out to them in advance. Plus, educational classes, tutoring sessions, book clubs, private dinners, seminars, and other business-related occurrences (or otherwise) can also be held at CAMP @ The Rock for advantageous rates. Weekend access can also be granted by special arrangements.
Amenities
Caffeine zone
Complimentary coffee & tea
Available Workspaces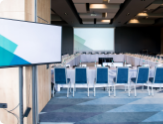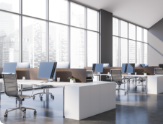 Walk & Ride
90/100

Walker's Paradise

49/100

Some Transit

90/100

Biker's Paradise
The area near 12240 Venice Boulevard is ideal for walkers. A car is not required to run errands because everything is nearby. Regarding transit, only a few options are currently available for public transportation. A complex cycling infrastructure awaits you in the area surrounding 12240 Venice Boulevard, making it a true biker's paradise.
read more
read less
Calculate Your Commute
Calculate commute by driving, cycling or walking, where available.
Commute calculator powered by Walk Score® Travel Time
Local Highlights
Dolphin Marina

2.04 miles

Burton Chace Park

2.12 miles

Marina Beach

2.12 miles

Expo/Sepulveda

2.17 miles

Esprit 1

2.23 miles

Expo/Bundy

2.25 miles

Westwood/Rancho Park

2.30 miles

Palms

2.36 miles

Fisherman's Village

2.37 miles

Del Rey Landing

2.46 miles
Super 8 by Wyndham Los Angeles-Culver City Area

0.55 miles

Rodeway Inn

0.77 miles

Paradise Inn & Suites

0.87 miles

Villa Brasil Motel

0.87 miles

Astro Motel

1.07 miles

Deano's Motel

1.08 miles

Sunburst Spa and Suites

1.09 miles

Galaxy Inn

1.09 miles

Ramada

1.09 miles

Travelodge by Wyndham Culver City

1.14 miles
Grand View Boulevard Elementary School

0.21 miles

Wildwood School

0.31 miles

Summit View School

0.61 miles

Beethoven Street Elementary School

0.70 miles

Venice High School

0.82 miles

Mar Vista Elementary School

0.85 miles

Mark Twain Middle School

0.88 miles

Venice Adult School

0.89 miles

Windward School

0.93 miles

Yo San University of Traditional Chinese Medicine

0.98 miles
My Lai

0.02 miles

The Mar Vista

0.03 miles

Quiadaiyn

0.06 miles

Little Fatty

0.07 miles

Yum Yum Donuts

0.07 miles

Tokyo Shokudo

0.08 miles

Hannosuke

0.08 miles

Gindaco Takoyaki

0.09 miles

Santouka Ramen

0.09 miles

Tacos Chapulin

0.12 miles
Mitsuwa Market

0.10 miles

Vons

0.39 miles

Northgate Market

1.23 miles

Trader Joe's

1.26 miles

Whole Foods Market

1.31 miles

Pavilions

1.39 miles

Ralphs

1.51 miles

Ralphs

1.53 miles

Ross

1.55 miles

Vons

1.57 miles
Bundy East Lot

1.07 miles

Bundy West Lot

1.09 miles

Bundy Overflow Lot

1.10 miles

SMC Airport Arts Parking

1.23 miles

St John's Presbyterian Church Park And Ride

1.68 miles

Overland Parking Garage

1.83 miles

Production Parking

1.86 miles

Culver/Motor Parking Garage

1.97 miles

South Thalberg Gate Lot

2.16 miles

North Thalberg Lot

2.17 miles
Village Car Wash

0.13 miles

Handy J Car Wash

0.50 miles

Shell

1.01 miles

699 Rent-a-car

1.01 miles

Culver City Express Hand Car Wash

1.09 miles

Avis

1.26 miles

ProWash

1.53 miles

Enterprise

1.65 miles

Enterprise

1.78 miles

Overland Car Wash

1.78 miles
Frequently Asked Questions
What should a good coworking space in Los Angeles provide?

A good coworking space should provide all of the basic amenities needed to get work done — like fast and reliable Wi-Fi, ergonomic furniture and different types of work or relaxing areas — but also extra features, such as printing, copying and scanning services or complimentary beverages or even snacks. Aside from these, coworking spaces provide different work arrangements that suit the varying needs of workers, from open desk areas to private offices. Notably, one of the most beneficial traits of a good coworking space is its community. In most cases, coworking operators foster and nurture a sense of community by allowing different workers from various backgrounds to come together and participate in exciting and fun activities, events and gatherings outside of working hours.

Can I book a coworking space by the hour? How about for a day/month?

When it comes to various work arrangements, coworking spaces in Los Angeles provide incredibly flexible possibilities; however, not all operators accept hourly and daily reservations. As opposed to regular work arrangements like an open workspace or a dedicated desk, hourly bookings are typically designed for meeting rooms and event venues. However, for users who want to try things out before committing to a space, hot desks are available in some locations, and other operators provide day passes or a trial period.

Can I visit or tour the coworking space before making a decision?

In many cases, coworking spaces allow you to take a tour of the location before you fully commit to any type of membership. Some even have virtual tours that you can take from the comfort of your own home. These allow you to view the space, the floorplan, the different types of working arrangements, and the overall design and vibe of the space. This way, you can see if the space matches your needs to make an informed decision.

How many coworking spaces are in Los Angeles?

Currently, there are 147 coworking spaces up for grabs in Los Angeles. However, you can always expand your area of search based on your location or according to convenience. In some cases, you can even find coworking spaces in the suburbs or outside of the main business district.

What types of coworking spaces are available?

The majority of coworking spaces in Los Angeles provide different types of working arrangements to suit both individual workers and teams. For instance, if you only need a space for a few days a month, you can opt for a desk in an open workspace or you can choose a dedicated desk if you plan to use it more regularly. Meanwhile, private offices are ideal for smaller teams that require more privacy, while meeting rooms are available in most locations and are equipped to host presentations, brainstorming sessions or client meetings.
Camp @ The Ranch
Camp @ The Ranch
(310) 272-9990
Why Choose Camp @ The Ranch
A cozy, creative, and often collaboratave, co-work and event space in Mar Vista.