Coworking — which has consistently been on the rise and significantly fueled by the increase in remote and hybrid work — continues its upward trajectory across the U.S. And, with more flexible workspaces opening their doors every day and new operators entering the market, the changes in this industry are notable, even in the span of just a few months.
So, to better understand the current state of the coworking industry in the U.S., we leveraged proprietary data from the previous quarter to break down the coworking landscape in the 25 largest markets. We also compared the most recent numbers to those registered in the first quarter of 2023 to determine the evolution of coworking throughout the nation.
National Coworking Supply Registers 10% Growth in Q2, Surpasses 6,100 Flex Workspaces as of June 2023
Perhaps the most relevant factor in the evolution of coworking is the general increase in the number of flex workspaces nationwide. To that end, as of June 2023, the national coworking space stock reached a total location count of 6,163. This was a 10% increase in the span of a quarter — given that the national inventory stood at 5,612 in March.
While the leading markets in terms of the number of coworking spaces remained the same as in the previous quarter, the top three — Manhattan, Los Angeles and Washington, D.C. — saw increases of 5%, 2% and 7%, respectively, totaling 37 more spaces combined. Meanwhile, other markets among the top 25 — such as Houston — logged 16% more coworking spaces in June than in March. Conversely, Raleigh, NC, saw an 8% decrease in its number of flex workspaces in Q2, going from a stock of 86 such spaces in the first quarter down to 79 in June.
Coworking Spaces Occupy 120 Million Square Feet Nationwide, Accounting for a 6% Increase from Q1
Per the most recent data, the U.S. coworking office space stock totals 120,617,339 square feet, which accounts for 1.74% of the total office space nationwide. While that total was likely unevenly distributed across different spaces (depending on locations, markets, capacity and operators), it's still a number that has grown since March. At that time, coworking represented 1.67% of the total office space, standing at 113,742,866 square feet.
National Median Prices for Coworking: Rates Go Up Across the Board, but Virtual Offices in Washington, D.C. Stand Well Below National Rate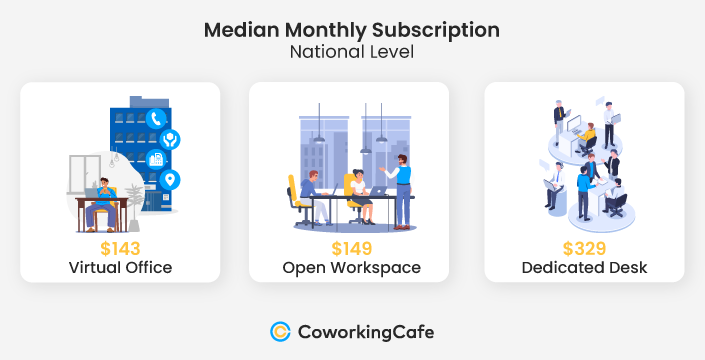 In terms of pricing, the national median rate for a virtual office was $143, while open workspaces went for $149 and dedicated desks for $329. Notably, all three of these rates went up in the second quarter of 2023, with the most pronounced increase seen in virtual offices.
More precisely, these types of coworking arrangements saw a 51% price increase since March, when the median rate stood at $94. Virtual office memberships stood below $100 in Miami, FL and Orange County, CA, with $99 a month. Meanwhile, virtual office options in Washington, D.C. stood well below the national median, at only $80 per month, which is the lowest rate among the 25 markets analyzed.
Conversely, open workspaces in Washington, D.C. were significantly above the median national rate of $149, standing at $225. However, the most expensive open workspace subscription among the 25 top markets was registered in Manhattan, where the cost was double that of the national median at $300 per month (a rate that has not changed since March).
Likewise, the Manhattan market had one of the costliest memberships for dedicated desks at $550 — a rate that was $221 more than the national median.
Leading Markets by Number of Coworking Spaces
Manhattan Only Market to Log 300+ Coworking Spaces, but Highest Increase in Q2 Registered in Houston
Similar to the first quarter of 2023, Manhattan, Los Angeles and Washington, D.C. shared the podium in terms of the highest numbers of coworking spaces. In fact, for the first time ever, Manhattan surpassed the 300-space threshold to reach a total of 305 flex workspaces in June — a 5% increase quarter over quarter. Meanwhile, Los Angeles saw slower growth of only 2%, reaching 269 coworking spaces, while Washington, D.C. added almost 20 more coworking spaces since March for 7% growth and a total of 261 spaces.
The top five markets with the largest supplies of coworking spaces is rounded out by Chicago and Dallas-Fort Worth, with 234 and 231 coworking spaces, respectively. However, a surprising turn this second quarter came from the Houston market: it not only logged an impressive 16% growth in Q2, but it also topped Boston, which placed in front of Houston in March. In June, Houston boasts 208 flex workspaces, up from 180, whereas Boston finished with 197.
Other significant increases in the number of coworking spaces were registered in Minneapolis-St. Paul (15%); Denver and Seattle (13%); and Atlanta, Philadelphia and Nashville (12%). At the opposite end of the spectrum, the most significant decreases were seen in Raleigh-Durham, NC, (-8%) and San Francisco (-5%).
Additionally, as compared to March of 2023, two large U.S. markets entered the top 25 with the most coworking spaces. Indianapolis and Salt Lake City took the last two positions among the largest markets, with 64 and 57 coworking spaces, respectively, which goes to show that a healthy demand for such flexible workspaces is coming from these emerging markets. Conversely, Fort Lauderdale, FL, and Kansas City, MO fell out of the top 25.
Although only five markets had more than 200 coworking spaces in the first quarter of 2023, now, seven have passed this threshold. Again, this change signals a consistent rise in the popularity and supply of this type of commercial real estate across the nation.
Leading Markets by Square Footage
National Total Square Footage Grows by 6% in Q2, Manhattan Still Boasts Largest Square Footage in Coworking Spaces
While Los Angeles was hot on Manhattan's heels in terms of the number of spaces, Manhattan claimed more than double the total square footage attributed to shared flex spaces. This demonstrated a significant discrepancy in the size of coworking spaces between the two markets and, perhaps surprisingly, Manhattan boasted much larger spaces compared to LA. Furthermore, Manhattan followed the national growth trend in terms of coworking square footage (6%), while Los Angeles registered a slight decrease of 1% in June, compared to March 2023.
Naturally, Houston's 13% growth in its number of coworking spaces generated an equally impressive expansion in terms of square footage: the market logged the highest increase in this metric and ended at more than 4,160,000 square feet of coworking space. Yet, despite coming in lower in the top 25 markets, Minneapolis-St. Paul and Nashville both experienced 10% growth in their total space allocated to coworking spaces with more than 1,500,000 total square feet each.
At the same time, Orange County, CA, saw a 5% decrease in the total allocated square footage and Miami registered 3% less space in June than it did in the previous quarter. In Miami, this was easily justified as the market lost two coworking spaces in this span of time. However, Orange County remained the same in terms of the number of coworking spaces, which was most likely due to a downsizing of at least one of its existing coworking spaces.
Despite Surge in Total Inventory, Average Square Footage per Market Decreases Slightly, Signaling Focus on Smaller Spaces
Half of the top 25 markets saw an increase in the size of coworking spaces. Manhattan led the way with an average square footage of more than 47,000 square feet – double the national average of around 19,000 square feet.
Notably, coworking spaces in San Francisco also seem to be growing their footprints, with average space sizes growing 7% quarter-over-quarter to 28,000 square feet, surpassing Brooklyn's average space size which grew 1% over last quarter. However, coworking space footprints in Raleigh, NC have grown the most, with the average space increasing 2,600 square feet to 23,150 – a 13% increase Q-o-Q.
And if half the markets saw an increase in coworking space sizes, the other half saw a decrease. Philadelphia's average square footage dropped 10%, while Seattle, the Bay Area and Denver also registered 6% decreases. The national average also dropped by 3%, going from 20,268 in March to 19,571 in June. This rise in the number of coworking spaces, paired with the decline in the average square footage, likely equates to an increased focus on smaller coworking spaces across the nation.
Distribution of Top Coworking Operators
Top U.S. Operators Regus & WeWork Decrease in Numbers, While Spaces Gains More Ground
The top operators with the highest numbers of coworking spaces at the national level remained industry giants Regus, WeWork, Industrious, Spaces and Premier Workspace, with all five logging more than 60% of their portfolios in the top 25 markets.
In this case, the portfolios belonging to Regus, WeWork and Premier Workspaces appear to have thinned slightly in the second quarter of 2023: they all registered drops in their numbers of spaces, both among the U.S.'s top 25 markets, as well as nationwide. Specifically, Regus and WeWork both saw a 3% decrease Q-o-Q among the largest 25 U.S. markets.
Meanwhile, Industrious was in a steady position, with a slight 1% increase among the top markets. At the same time, Spaces was the only one gaining significant ground both in the top markets and in general, with surges of 7% and 6%, respectively. As a matter of fact, data from June showed seven more coworking locations attributed to Spaces, as compared to March.
However, while the national and often local monopoly attributed to large coworking players comes as no surprise, local or independent operators overtook them in Brooklyn. Here, the highest number of coworking spaces (seven) belonged to the smaller operator GreenDesk, followed by six spaces attributed to WorkHeights. Conversely, WeWork owned only four spaces in the Brooklyn market, while Spaces and Industrious had just two each and Regus was represented by only one office.
What the Experts Say: Doug Ressler, Business Intelligence Manager - Yardi Matrix
"With falling property values in some cities and rising interest rates, the commercial real estate industry is at a crossroads.
Many companies still aren't certain the number of employees who will be in their physical office space in the near or long term. That has led to firms doing smaller projects with startups, like pilot tests, instead of larger-scale purchases.
To survive, property owners are asking 'How do I make sure my company/property is still around to take advantage of the opportunity when it comes?"
Coworking/Shared space is one of the creative solutions which addresses this question. Loan extensions for commercial properties are being made possible because there are proven opportunities to restore occupancy and increase cash flow in the commercial office space.
Coworking spaces now offer more strategic options for tenants with less predictable outlooks. This is specifically true in spaces that are being utilized more than the organizations' core headquarters. As a result, landlords in smaller or suburban properties who are interested in the flex market see real opportunity in this niche segment and are beginning to fulfill some of the growing demand for more flexible and agile uses of space."
Methodology
To compile this report, we used proprietary data from CoworkingCafe to determine the number of coworking spaces per market, as well as the total square footage and the leading operators.
The study relied solely on the listing data available on CoworkingCafe as of June 2023.
The top 25 markets analyzed were established per our sister company, Yardi Matrix.
In terms of pricing, we looked at the national median starting prices per person per month for virtual office, open workspace and dedicated desk coworking subscriptions.
Fair Use & Redistribution
We encourage and freely grant you permission to reuse, host or repost the images in this article. When doing so, we only ask that you kindly attribute the authors by linking to CoworkingCafe.com or this page so that your readers can learn more about this project, the research behind it and its methodology.