Located inside the Cottonwood Reserve clubhouse, this shared workspace features bookable conference rooms, community seating, a privacy pod, unlimited printing, a complimentary coffee station, and so much more! Work with others or in privacy and enjoy quick load speeds and convenient charging throughout the space. Have questions? Text Apt CoWork at 385-213-2070, visit our website, or send us a chat here: https://direct.lc.chat/13432740/
Amenities
Caffeine zone
Complimentary coffee & tea
Equipment
Printer
Standing desks
TV/Monitor
White boards
Facilities
Parking
Privacy booths
Available Workspaces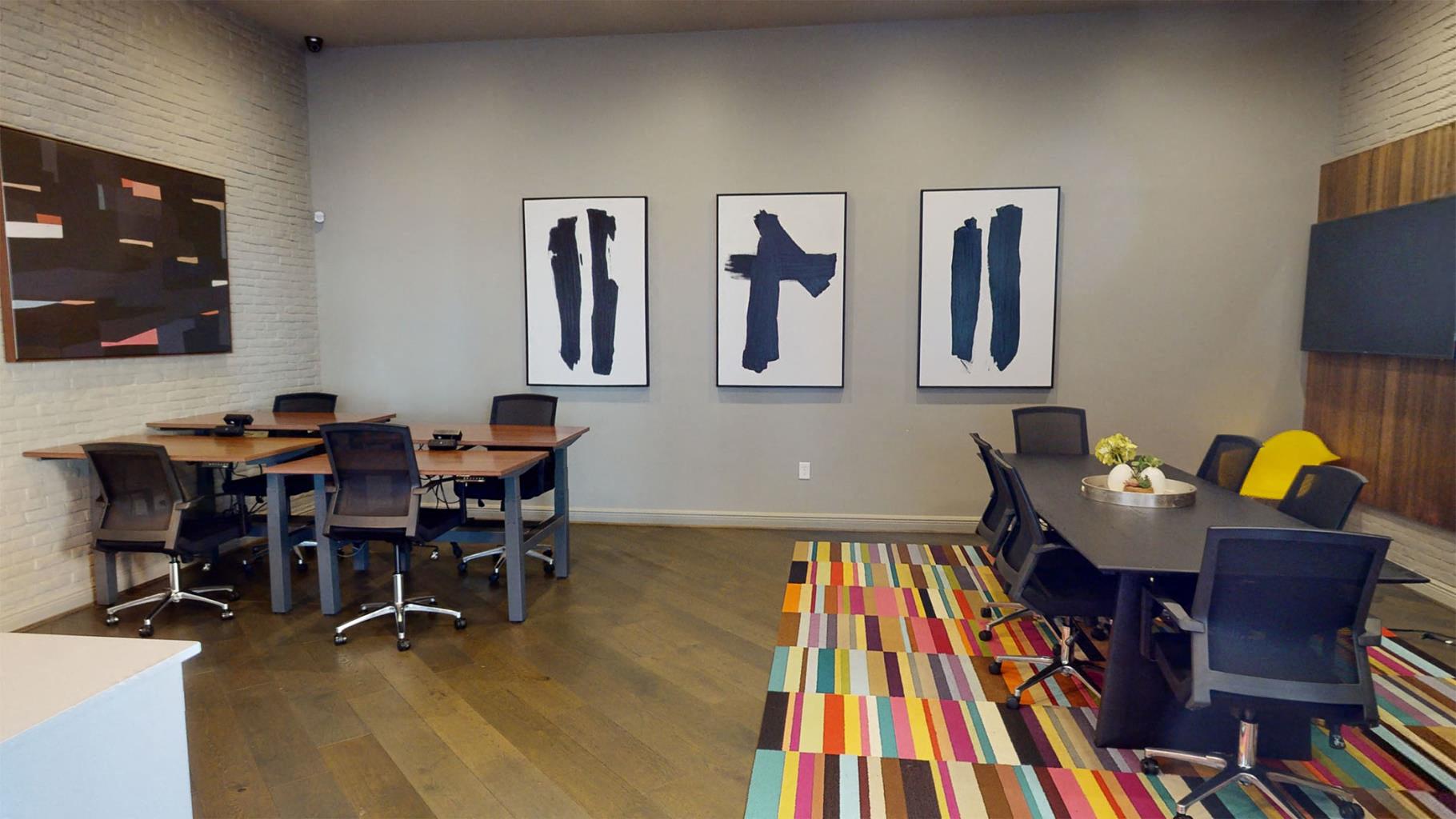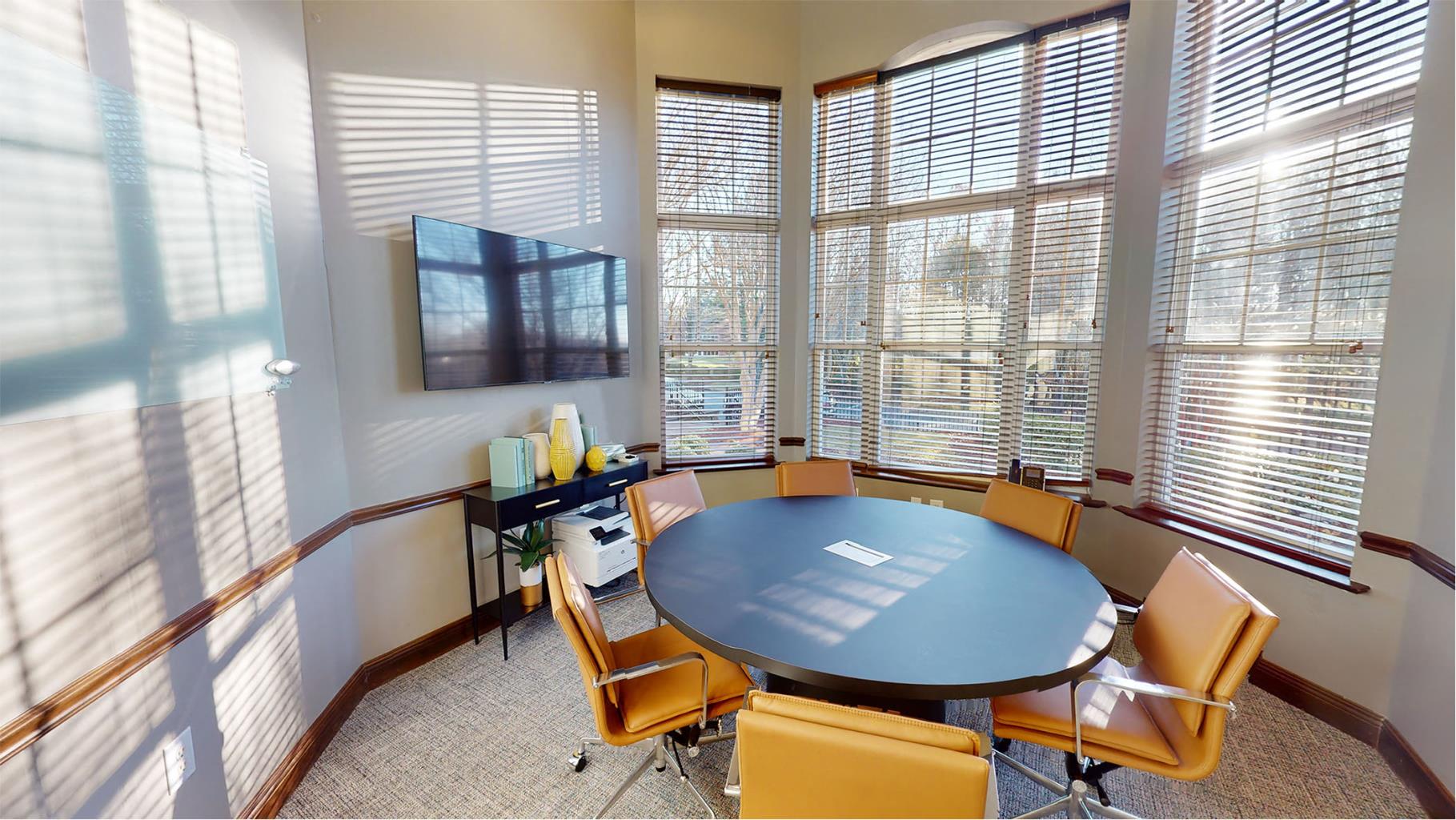 Walk & Ride
11/100

Car-Dependent

33/100

Some Transit

17/100

Somewhat Bikeable
The area near 2325 Courtney Oaks Road is very much car-dependent. Services and amenities are not close by, which requires residents here to rely on their own means of transportation. Regarding transit, only a few options are currently available for public transportation. 2325 Courtney Oaks Road's bikeable score is relatively low and has minimal infrastructure dedicated to cycling.
read more
read less
Location
Address:

2325 Courtney Oaks Road

Neighborhood:

Eagle Lake

City:

Charlotte, NC

Zip Code:

28217
Calculate Your Commute
Calculate commute by driving, cycling or walking, where available.
Commute calculator powered by Walk Score® Travel Time
Local Highlights
Tyvola

2.35 miles

Archdale

2.43 miles

Woodlawn

2.46 miles

Arrowood

3.02 miles

Scaleybark

3.21 miles

Sharon Road West

3.60 miles

New Bern

3.85 miles

I-485/South Boulevard

4.34 miles

Taxi Rank

4.55 miles

East/West Boulevard

4.87 miles
Residence Inn

1.39 miles

Fairfield Inn

1.40 miles

Holiday Inn Express & Suites Charlotte Southwest

1.40 miles

Hyatt Place Charlotte Airport/Lake Pointe

1.41 miles

Wingate by Wyndham Charlotte Airport South/ I-77 Tyvola

1.47 miles

Home2 Suites by Hilton Charlotte I-77 South, NC

1.54 miles

Aloft Charlotte Airport

1.54 miles

Extended Stay America - Charlotte - Tyvola Rd.

1.56 miles

Comfort Inn Charlotte Airport Uptown

1.61 miles

Drury Inn & Suites Charlotte Arrowood

1.66 miles
Charlotte Vehicle Operations Center

0.38 miles

E. E. Waddell Language Academy

1.07 miles

Metrolina Regional Scholars Academy

1.93 miles

Nations Ford Elementary School

1.98 miles

Central Piedmont Community College (Harper Campus)

2.55 miles

Smith Academy of International Languages

2.71 miles

Reid Park Elementary School

2.96 miles

Montclaire Elementary School

3.03 miles

Amay James Pre-Kindergarten Center

3.12 miles

Pinewood Elementary School

3.12 miles
Zaxby's

0.87 miles

Pizza Hut

1.01 miles

Bojangles'

1.04 miles

Showmars

1.07 miles

Waffle House

1.16 miles

Chick-fil-A

1.35 miles

BurgerIM

1.37 miles

Chipotle

1.38 miles

McDonald's

1.38 miles

Panera Bread

1.40 miles
Publix

1.25 miles

Walmart Supercenter

1.36 miles

Food Lion

2.25 miles

ALDI

2.29 miles

Compare Foods Supermarket

2.42 miles

Ross

2.48 miles

Food Lion

2.52 miles

Compare Foods

2.94 miles

Saks Fifth Avenue

2.95 miles

Harris Teeter

3.04 miles
Bus Parking Lot

1.90 miles

Tyvola Park and Ride

2.35 miles

Woodlawn Park and Ride

2.40 miles

Parking Deck A

2.47 miles

Archdale Park and Ride

2.49 miles

Lot A

2.49 miles

Parking Deck B

2.59 miles

Lot D

2.60 miles

Lot C

2.72 miles

Arrowood Park and Ride

3.04 miles
Enterprise

1.96 miles

Greenway Express Carwash

2.30 miles

Exclusive Detail And Tint

2.34 miles

Autobell Car Wash

2.41 miles

Sam's Xpress Car Wash

2.87 miles

Washaroo

3.89 miles

Autobell Car Wash

4.34 miles

Advantage

4.36 miles

Dollar

4.36 miles

Hertz

4.36 miles
Frequently Asked Questions
How many coworking spaces are in Charlotte?

There are 41 coworking spaces available right now in Charlotte. However, if you broaden your search region to better match the location of your home or explore a certain area of interest, you'll likely find additional options as some coworking spaces are also available outside of the major commercial areas in the suburbs.

What should a good coworking space in Charlotte provide?

The best way that coworking spaces support a hassle-free workday is through their most crucial amenities. These range from fast and reliable Wi-Fi to comfortable, ergonomic furniture and a variety of workspaces for different types of professionals. Many coworking operators also include beverages and snacks in their memberships to help workers stay energized throughout the day. Or, if you're looking to connect and network with your own team or other entrepreneurs coming from different backgrounds, focus your search on a coworking space that has a close-knit community. These are often easy to spot because they're nurtured by regular events that bring members together and help them establish professional and personal connections.

What types of coworking spaces are available?

Most coworking spaces in Charlotte offer a variety of working configurations that accommodate both individual employees and larger teams. So, whether you need a desk in an open area for occasional use or a dedicated one to work from on a more regular basis, there are several options available. Additionally, teams of different sizes can get more privacy in private offices, while meeting rooms are ideal for hosting presentations or meeting with clients.

Can I book a coworking space by the hour? How about for a day/month?

Yes, most coworking spaces in Charlotte offer flexible booking options. However, while monthly rates are commonly available, not all operators offer daily bookings. Hourly rates are typically reserved for meeting rooms and are less commonly used for general workspace access.

Are there any pet-friendly coworking spaces in Charlotte?

There are coworking spaces in Charlotte that accept pets so you can bring your four-legged companion and keep them nearby while you work. When looking at the available options, narrow your search to ensure that you pick a pet-friendly location by selecting the "pet-friendly" filter. If you're still unsure, reach out to the operator and ask them about this policy.
Apt CoWork
Apt Cowork
(385) 213-2070
Book Now
Why Choose Apt CoWork
In business since: 2021
Apt Cowork is a productivity-oriented coworking space.