Amenities
Caffeine zone
Complimentary coffee & tea
Available Workspaces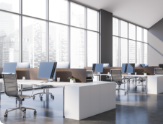 Walk & Ride
56/100

Somewhat Walkable

47/100

Some Transit

41/100

Somewhat Bikeable
The vicinity of 8418 West McNichols Road is relatively walkable. You can run some errands on foot, as certain facilities and services are close by. Regarding transit, only a few options are currently available for public transportation. 8418 West McNichols Road's bikeable score is relatively low and has minimal infrastructure dedicated to cycling.
read more
read less
Calculate Your Commute
Calculate commute by driving, cycling or walking, where available.
Commute calculator powered by Walk Score® Travel Time
Local Highlights
CDM Transport LLC

1.68 miles

Royal Oak

4.99 miles

Grand Boulevard

5.22 miles

Baltimore Street

5.35 miles

Detroit

5.38 miles

Amsterdam Street

5.52 miles

Ferry Street

5.88 miles

Warren Avenue

6.13 miles

Canfield Street

6.50 miles

Checker Cab #977

6.86 miles
Baymont by Wyndham Ferndale/Royal Oak

2.21 miles

Fontaine Motel

2.36 miles

Cranbrook Inn

3.03 miles

Hilton Veterinary Clinic of Ferndale

4.22 miles

Town Motel

4.73 miles

Rio Grand Motel

4.75 miles

Hamtramck Hotel & Hostel

4.86 miles

Riviera Motel Detroit

5.00 miles

Hotel St. Regis

5.18 miles

Pinkinn Motel

5.44 miles
Marygrove College

0.18 miles

Morris Child Development Center

0.52 miles

Bagley Elementary School

0.55 miles

Mumford High School

0.56 miles

Mary McLeod Bethune Elementary-Middle School

0.61 miles

Mayflower Nursery Play Center

0.68 miles

Schulze Academy for Technology and Arts

0.76 miles

Gesu Catholic School

0.79 miles

E T Clark Academy

0.80 miles

Lewis College of Business

0.83 miles
Subway

0.31 miles

Detroit Pizza Bar

0.47 miles

McDonald's

0.63 miles

Captain Jay's Fish & Chicken

0.64 miles

Nicky D's Coney Island

0.64 miles

Plaza Deli

0.71 miles

Burger King

0.75 miles

U of D Coney Island

0.84 miles

Church's Chicken

0.85 miles

Subway

0.97 miles
Farmer's Best Grocery Store

0.62 miles

Liberty Food Center

0.72 miles

Savon Foods Supermarket

0.78 miles

Mike's Fresh Market

1.22 miles

Value Save Food Center

1.69 miles

Save-A-Lot

1.75 miles

Banner Supermarket

2.00 miles

Aldi

2.03 miles

Kroger

2.06 miles

Savon Foods

2.26 miles
Faculty / Staff Parking Lot A

0.75 miles

Vistor Parking Lot B

0.80 miles

Student / Vistor Parking Lot B

0.82 miles

Faculty / Visitor Parking Lot C

0.84 miles

Student / Vistor Parking Lot F

0.87 miles

Faculty / Staff Parking Lot H

0.87 miles

Student Parking Lot I

0.90 miles

Student Parking Lot H

0.91 miles

Student / Vistor Parking Lot D

0.94 miles

Faculty / Staff Parking Lot E

0.94 miles
Soaps Car Wash

2.09 miles

Quality Car Wash

3.02 miles

Greenfield Car Wash

3.08 miles

Fast Splash

3.60 miles

Royal Car Wash

3.85 miles

The Original $2 Soft Clothe Car Wash

4.40 miles

Celebrity Car Wash

4.60 miles

$3 Car Wash

4.93 miles

Enterprise

5.02 miles

Jax Kar Wash

5.04 miles
Frequently Asked Questions
What types of coworking spaces are available?

In Detroit, there are various coworking spaces that enable different working arrangements — whether that's a desk in an open workspace, which is ideal for collaboration, a dedicated desk that will be assigned only to you, or a private office that enables more privacy for both individual workers and teams. Most coworking spaces also have meeting or conference rooms where you can host client meetings, brainstorming sessions or presentations. These are often bookable by the hour.

Can I visit or tour the coworking space before making a decision?

In some cases, coworking operators will provide you with a free tour of the space before you can make your decision. By doing so, you can assess the space's floorplan, the different work areas, the overall amenities, and the quality of the site to see if they match your needs and overall vision. At the same time, some operators have virtual tours that you can take from the comfort of your own home — without having to make an extra trip.

What should a good coworking space in Detroit provide?

A good coworking space should offer all of the essential amenities required to work efficiently and comfortably — like a quick and reliable internet connection, ergonomic furniture, tech equipment and various work or relaxation areas — but also some extra perks, such as printing, copying, and scanning services or complimentary snacks and beverages. Plus, coworking spaces offer various work settings, such as open desk areas and private offices to accommodate workers' diverse needs. Last, but not least, a solid coworking space community is one of its best qualities. To that end, coworking business owners often cultivate and support a sense of community by organizing networking events to help members connect and socialize.

Are there any pet-friendly coworking spaces in Detroit?

In some coworking spaces, pets are more than welcome as they bring an extra dose of joy to the members of the community. If your furry friend needs to accompany you during your workday, make sure to filter your search and choose from the pet-friendly coworking spaces available in Detroit. However, if you're not sure about a location's policy, you can always reach out directly to the operator to inquire about that.

How many coworking spaces are in Detroit?

Right now, you can choose from 18 coworking spaces available in Detroit. But, depending on your home base or certain neighborhoods that are desirable to you, you can always broaden your search to include wider areas outside of the central business district or even those that include suburbs.
Detroit Parent Collective
Detroit Parent Collective
(947) 234-1785
Why Choose Detroit Parent Collective
Detroit Parent Collective was founded with the intention to provide Detroit with its first ever combined co-working space and cooperative preschool. Unlike traditional daycare, this space has plenty of amenities for both child/ren and parent(s)/ guardian(s)/ caregiver(s). While children play and learn, parents can build relationships within the community and also get their work done.