Amenities
Facilities
Receptionist/Secretarial services
Available Workspaces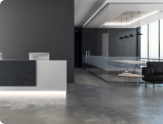 Walk & Ride
69/100

Somewhat Walkable

32/100

Some Transit

42/100

Somewhat Bikeable
The vicinity of 6625 Miami Lakes Drive is relatively walkable. You can run some errands on foot, as certain facilities and services are close by. Regarding transit, only a few options are currently available for public transportation. 6625 Miami Lakes Drive's bikeable score is relatively low and has minimal infrastructure dedicated to cycling.
read more
read less
Location
Address:

6625 Miami Lakes Drive

Neighborhood:

Miami Lakes Town Center

City:

Miami Lakes, FL

Zip Code:

33014
Calculate Your Commute
Calculate commute by driving, cycling or walking, where available.
Commute calculator powered by Walk Score® Travel Time
Local Highlights
Opa-Locka

3.45 miles

Palmetto

4.65 miles

Okeechobee

4.80 miles

Hialeah

5.02 miles

Miami

5.15 miles

Metrorail Transfer

5.26 miles

Tri-Rail Transfer

5.31 miles

Northside

5.70 miles

Golden Glades

5.70 miles

Dr. Martin Luther King, Jr.

6.72 miles
Shula's Hotel and Golf Club

0.33 miles

Carl y lore

1.07 miles

Sonesta Select Miami Lakes

1.27 miles

La Quinta Inn & Suites by Wyndham Miami Lakes

1.40 miles

TownePlace Suites by Marriott Miami Lakes

1.53 miles

Holiday Inn Express & Suites Miami - Hialeah

2.10 miles

Anna k y melvin

2.41 miles

Holiday Inn Miami West - Airport Area

3.04 miles

Ramada

3.13 miles

Rainbow Inn Motel

4.28 miles
United Lakes Methodist Preschool

0.08 miles

Miami Lakes Christian Academy

0.32 miles

Miami Lakes Congregational Church Preschool

0.33 miles

Miami Lakes Elementary School

0.41 miles

Miami Lakes United Methodist Preschool

0.48 miles

Saint Margarets Preschool

0.56 miles

Our Lady of the Lakes School

0.58 miles

Miami Lakes Middle School

0.66 miles

A World for Children Montessori School

0.85 miles

Hialeah-Miami Lakes Senior High School

0.88 miles
Chela's beer garden

0.30 miles

107 Taste

0.33 miles

Denny's Restaurant

1.19 miles

Toy Shan

2.23 miles

Wendy's

2.28 miles

Taco Bell

2.53 miles

La Carreta

2.68 miles

Sano Food

2.74 miles

IHOP

2.80 miles

McDonald's

2.80 miles
Walmart Supercenter

1.99 miles

Coast Guard Exchange

2.14 miles

CGX

2.17 miles

Brandsmart USA

2.42 miles

Winn-Dixie

2.63 miles

Sedano's

2.67 miles

Publix

2.78 miles

Aldi

2.82 miles

Ross

2.83 miles

Westland Mall

2.88 miles
Opa-Locka Park and Ride

3.42 miles

I 75 Park and Ride

3.83 miles

Student / Visitor Parking

6.04 miles

Faculty/Staff Parking

6.06 miles

FEC Auto Loading/Unloading

6.42 miles

Self Parking

7.00 miles

Spa Parking

7.09 miles

Miramar Towne Center

7.18 miles

Miramar Shopping Center

7.20 miles

Cell Phone Lot

7.72 miles
U-Haul Super Center

4.13 miles

Enterprise

4.86 miles

Enterprise Rent-A-Car

5.86 miles

Flamingo's Hand Car Wash

5.91 miles

Enterprise

6.93 miles

Daily's CarWash

6.94 miles

Enterprise

6.95 miles

Apollo Miami RVs Motorhomes

8.11 miles

Car Rental Miami Airport - Car Rental in USA

8.29 miles

Rental Car Center

8.29 miles
Frequently Asked Questions
Do I need a membership to work at a coworking space in Miami Lakes?

Generally, a coworking membership can be cost-effective for those who primarily work at a desk. However, if you only need occasional and short-term access to a coworking space, consider day passes or hourly subscriptions available at several coworking spaces in Miami Lakes.?Memberships are normally best-suited for long-term users as they are more affordable than hourly or daily subscriptions and they cater to varying needs. Additionally, many coworking spaces offer added benefits such as networking events, access to gyms, and other amenities, enhancing the overall coworking experience and fostering a vibrant and supportive community.

Can I book a coworking space by the hour? How about for a day/month?

Yes, most coworking spaces in Miami Lakes offer flexible booking options. However, while monthly rates are commonly available, not all operators offer daily bookings. Hourly rates are typically reserved for meeting rooms and are less commonly used for general workspace access.

What types of coworking spaces are available?

The majority of coworking spaces in Miami Lakes provide different types of working arrangements to suit both individual workers and teams. For instance, if you only need a space for a few days a month, you can opt for a desk in an open workspace or you can choose a dedicated desk if you plan to use it more regularly. Meanwhile, private offices are ideal for smaller teams that require more privacy, while meeting rooms are available in most locations and are equipped to host presentations, brainstorming sessions or client meetings.

What should a good coworking space in Miami Lakes provide?

A good coworking space should provide all of the basic amenities needed to get work done — like fast and reliable Wi-Fi, ergonomic furniture and different types of work or relaxing areas — but also extra features, such as printing, copying and scanning services or complimentary beverages or even snacks. Aside from these, coworking spaces provide different work arrangements that suit the varying needs of workers, from open desk areas to private offices. Notably, one of the most beneficial traits of a good coworking space is its community. In most cases, coworking operators foster and nurture a sense of community by allowing different workers from various backgrounds to come together and participate in exciting and fun activities, events and gatherings outside of working hours.

How many coworking spaces are in Miami Lakes?

Currently, there are 2 coworking spaces up for grabs in Miami Lakes. However, you can always expand your area of search based on your location or according to convenience. In some cases, you can even find coworking spaces in the suburbs or outside of the main business district.